RETAIL
By Andrew Asch | November 15, 2018
With its distinctive green awning and its green-colored shopping bags, Carroll & Co. was a notable menswear player in Beverly Hills, Calif.
Tailored Brands Inc., the Fremont, Calif., parent company of several menswear-store chains, said its chief executive as well as its president and chief operating officer are leaving.
Victor Herrero, a Spaniard who had worked for Inditex for more than a decade, came on board three years ago as the new chief executive of Guess? Inc. to turn things around.
Macy's is getting into the pop-up shop business. Emerging and new brands are encouraged to pitch the department-store chain to display their merchandise in this new venture.
Same-store sales for Gap Inc.'ssecond quarter of 2018 increased 2 percent compared with the same period in 2017, said Art Peck, Gap Inc.'s president and chief executive officer.
The National Retail Federation revised its 2018 economic forecast, saying retail sales are expected to increase by at least 4.5 percent this year compared with 2017 after an earlier forecast saying retail sales would increase 3.8 percent to 4.4 percent, said Jack Kleinhenz, the NRF's chief economist.
The Irvine Spectrum shopping center just got bigger.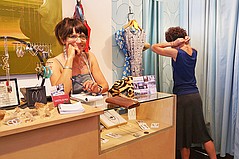 When a lease ran out on a boutique run by Deborah Brosenne, she didn't want to move out of the Silver Lake/Echo Park neighborhood. So she grabbed a chance to open a store in the area, moving to Sunset Junction by the intersection of Sunset and Santa Monica boulevards in Silver Lake.
The back-to-school season started on a robust note in July and beat analysts' forecasts, according to market research company Retail Metrics.
Co-working office spaces are familiar sights in the downtown areas of almost any big city. Soon these shared office spaces will be at Macerich-owned malls.
Ron Herman has spent his career introducing some of the world's most famous denim brands from his self-named Ron Herman store, which for decades has been a pioneer in the Los Angeles boutique business.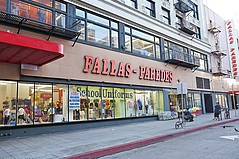 Bankruptcy filing for parent company of Fallas Paredes, Factory 2-U and Anna's Linens
Retailers are prohibited from selling fur in the California cities of West Hollywood, Berkeley and San Francisco. Los Angeles may be next.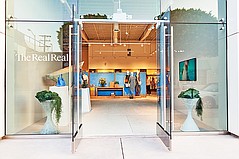 With a lot more space than its New York City flagship store, which opened in November, luxury consignment company The Real Real opened its first West Coast bricks-and-mortar location on Melrose Avenue in West Hollywood, Calif.
Could Instagram become the shopping mall of the future?
After a four-year wait, the former Fred Segal retail compound in Santa Monica, Calif., will see construction start in August to transform the former shopping hot spot into a seven-story residential building with commercial space.