RETAIL
By Andrew Asch | August 27, 2015
Since e-commerce business started skyrocketing nearly a decade ago, bricks-and-mortar retailers have wondered how they could inject the best of the e-commerce experience into physical stores.
Australian swimwear brand Seafolly is increasing its bid for the U.S. market. It is scheduled to open its second American store on May 30. It will be located at Westfield UTC retail center in La Jolla, Calif.
Seth Haber, a former partner with Agenda trade show, headquartered in Los Angeles, is heading to the retail side of the streetwear business.
On May 26, the Los Angeles–based retailer announced that it had entered into an agreement to acquire Geeknet Inc., an online retailer and wholesaler of merchandise licensed from TV shows, movies and other media with science-fiction, superhero and fantasy themes. Geeknet is headquartered in Fairfax, Va.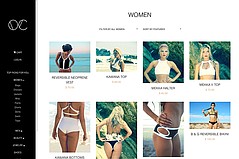 The site www.onyx-creative.com curates fashion, jewelry and homeware brands from around the world. Some brands are Nüera, a California swim brand; Handsome Me, an Australian men's brand; and Pulse, a Romanian womenswear brand.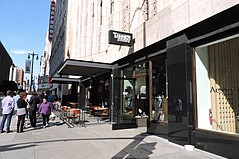 Almost every night, bars and restaurants are hopping in downtown Los Angeles, a once-blighted area that is going through an unparalleled boom, but boutique retailers don't feel like they entirely share in the city's new prosperity.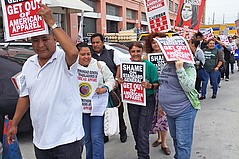 The fight between American Apparel and its founder, Dov Charney, continued with a lawsuit the manufacturer filed on May 15 in the Delaware Court Of Chancery against the ousted chief executive officer, alleging Charney violated a "standstill agreement" he had with American Apparel.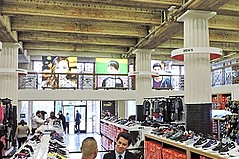 The new flagship for WSS was a real fixer-upper, but the end result is a historic showplace for the Los Angeles–headquartered footwear retailer.
Sherman Oaks, Calif.–based Cherokee Global Brands has acquired San Diego–based casual lifestyle brand Everyday California.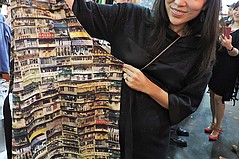 This summer, American Rag Cie is scheduled to open its first shop in China, and it will be stocked with many of the brands currently sold in American Rag's high-profile shops in Los Angeles and Newport Beach, Calif.
Los Angeles City Council members voted in favor of a minimum wage hike from its current $9 per hour to $15 per hour by 2020.
Rick Caruso, the founder and chief executive officer of Caruso Affiliated, laid his cards on the table on May 12. He held a press conference outlining his plans for a Caruso project in Carlsbad.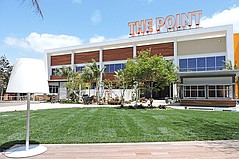 Planet Blue, Lucky Brand and Michael Stars are scheduled to open stores at The Point, Los Angeles County's newest retail center, which is scheduled to take a bow on July 30.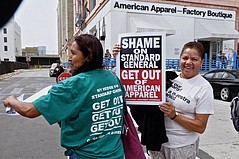 In more legal shots fired in the ongoing battle over control of American Apparel, the dismissed clothing company's founder has filed two lawsuits in less than one week accusing American Apparel and hedge fund investor Standard General of defaming his character in false accusations and letters.
When looking for a new senior general manager for its high-profile Glendale Galleria retail center in Glendale, Calif., General Growth Properties picked a man working for its rival Simon.
L Brands, the parent company to Victoria's Secret and Bed, Bath and Beyond, and Steinmart, an off-pricer, reported same-store declines of 1 percent and 1.5 percent, respectively. Gap Inc. will report its April sales on May 11.