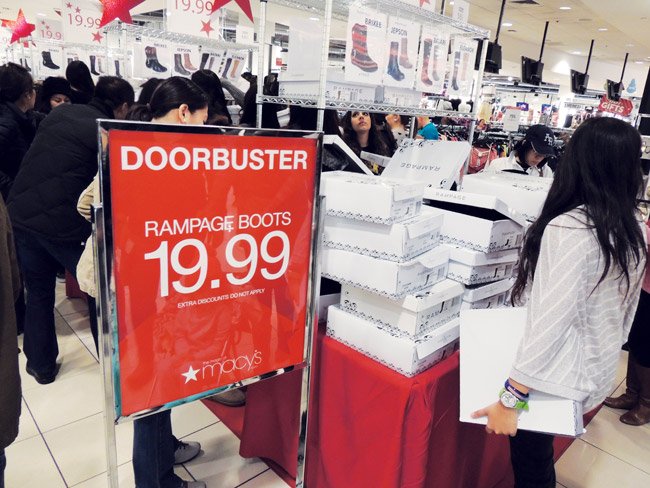 RETAIL
By Andrew Asch | December 5, 2013
After a mixed Black Friday, Retailers are wondering how the crucial month of December will play out.
West Coast flagship Labor Day weekend opened
Planet Blue is taking e-commerce to the next level. The Los Angeles–area multi-store retailer relaunched its website and now offers same-day shipping in select areas of Southern California. Soon, it will begin offering free international shipping to 100 countries.
On Sept. 21, West Hollywood, Calif., will become the only city in America where selling clothing made with fur is a crime.
iMerchandise is a new mobile application that acts like a virtual assistant for buyers. David Secul, the creator of the company, said he developed the platform to assist his wife, Angela Gengaro-Secul, owner and buyer of New Jersey boutique Tula.

U.S. chain-store sales posted a 3.7 percent increase for August over the previous year, according to the International Council of Shopping Centers.
Designer Max Noce has opened a new boutique Sunset blvd
Gap Inc. Chairman and Chief Executive Officer Glenn K. Murphy reported being pleased with "Reserve in Store," the sprawling San Francisco–based retail giant's recent test of its omni-channel retail program, and he is considering expanding the test to more locations.
Despite signs that the Chinese economy slowed down this summer, Chinese tourism in California is skyrocketing, and retailers are making efforts to make sure the tourists' sightseeing includes spending a lot of money at the mall.
It's been tough for teen retailers recently, but Pacific Sunwear of California Inc. broke from the pack when it announced Aug. 29 positive same-store sales for the second quarter of its 2013 fiscal year.
Claire Pettibone's New LA HQ Is a Castle
Jennifer Ehrhardt has been named chief financial officer of Irvine, Calif.–based teen surf chain Tilly's, succeeding Bill Langsdorf, who announced his retirement earlier in the year.
Darrel Adams' Kin Los Angeles boutique is growing up
A dust-up between the high-end Americana at Brand shopping center and Rite Aid drugstores has taken a new legal turn.
After establishing three stores in New York, Haute Hippie, a 5-year-old women's contemporary label, is headed west.
Bealls Outlet, a Florida-based company that operates 458 discount stores in 16 states, has opened its first buying office in Los Angeles