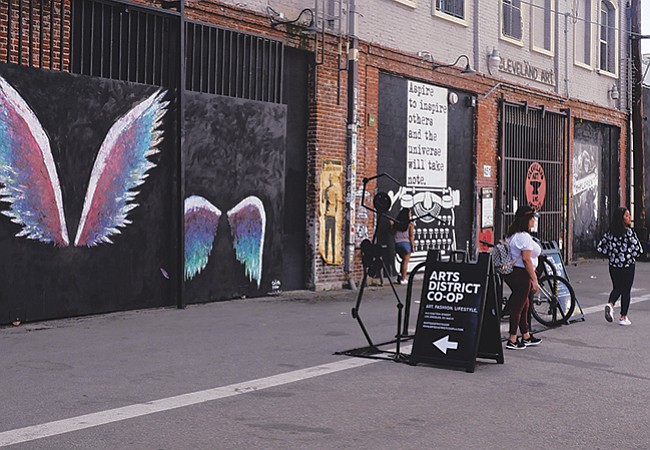 RETAIL
By Andrew Asch | July 13, 2017
Every major city has an "anti-downtown," said Sam Brownell, principal and partner of property developers Blatteis & Schnur Inc.
Gap Inc. recently reported that it laid off 216 people at its corporate office in San Francisco.
The Fashion Bookstore<, located in the lobby of the California Market Center, will host its biannual sale Feb. 27–March 1 during the Los Angeles International Textile Show.
Jennifer Althouse rejoined prominent retailer American Rag Cie shortly after closing her self-named Althouse boutique in downtown Los Angeles in January. She will serve the retailer as an executive vice president.
For one store in the Los Angeles–headquartered M.Fredric chain, some of the busiest and most lucrative hours are between 6 and 9 a.m., long before most bricks-and-mortar retail stores are thinking about opening their doors.
Another California clothing venture is selling its brand after declaring Chapter 11 bankruptcy protection.
Online clothing vendor Nasty Gal will be spending the next two to three months winding down its Los Angeles operations after British-based fashion online retailer BooHoo won a $20 million bid to buy the company's intellectual-property assets, trademarks and customer lists.
Los Angeles–based brand BCBGMaxAzriaGroup, which has been weathering some tough financial times lately, has outlined its strategy for closing nearly 400 stores in its retail chain of 570 outposts.
Business will be good in 2017, according to a forecast released Feb. 8 by National Retail Federation, the Washington D.C. trade group.
Gap Inc. reported gains after posting sales results for its fourth quarter for its 2016 fiscal year and in January.
Zumiez Inc., the Lynwood, Wash.–based action-sports apparel and equipment retailer, continued its winning streak with strong retail sales last month. In contrast, Kearney, Neb.–based chain The Buckle Inc. continued to struggle in January. The company reported a 17.2 percent decrease in net sales to $43.9 million in January and a same-store-sales decrease of 17.6 percent.
Online sales were expected to capture 11.6 percent —or $394 billion—of all U.S. retail sales in 2016, according to a projection by Forrester research firm, but instead "digital touchpoints" commanded an estimated 49 percent of U.S. sales.
Irvine, Calif.–based retail chain The Wet Seal LLC notified the State of California's Employment Development Department Jan. 23 that it is planning to cut 148 jobs.
After a two-year run as president of Gap Inc.'s long-suffering Banana Republic division, Andi Owen will leave the company, according to a Jan. 24 announcement.
The National Retail Federation says retail sales beat its own holiday prediction.
As the deadline looms for buyers to submit their bids for bankrupt American Apparel, rumors are flying about who is thinking about making an offer.