RETAIL
By Andrew Asch | July 20, 2017
Trade shows and runway shows have been looking to produce extra revenue streams for their vendors.
E-commerce solutions company Starmount recently launched new products to assist retailers with their omnichannel initiatives.
California's attorney general has won a settlement from a clothing factory in India accused of stealing intellectual property from U.S. software companies.
Harry Rosen, a 61-year-old luxury menswear retail chain with 17 stores in Canada, has implemented the Retail Vision Suite from Montreal-based ERP (enterprise resource planning) software provider Jesta I.S. Inc.
Omni-channel was the tech buzzword of 2012. In 2015, the retail tech world was focused on "Big Data," or through feeding extremely large sets of data into computer algorithms, then finding trends and patterns, which might forecast what kind of denim consumers will purchase.
Ever since PLM (Product Lifecycle Management) software was introduced to the apparel industry, the solution has been helping companies do everything from line planning to streamlining production by giving everyone involved in development access to the same real-time information.
Epson's SureColor F9200 sublimation printer landed the product of the year award within the "roll-to-roll dye sublimation on textile" category at the recent Specialty Graphic Imaging Association (SGIA) expo in Atlanta.
October 22, 2015
|
By John McCurry, Contributing Writer
The phrase "speed to market" has become commonplace over the years, but it still aptly describes what's driving business in the apparel industry. And, as a result, industry suppliers such as Lectra are benefiting.
The worlds of fashion and technology merged at the launch of Melange Live, a conference that explored new developments in e-commerce, mobile/digital payments, brand building using social media and new innovations in wearable technology.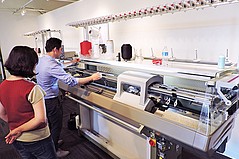 Knitwear designers and manufacturers looking for insight and inspiration have a new destination in the Los Angeles Fashion District with the recent opening of a permanent showroom and design center for Japanese knitting machine and software maker Shima Seiki at the California Market Center.
Performance characteristics such as moisture management, water repellency and odor control are familiar territory for consumers of activewear while enhanced performance features are relatively new for casual apparel and ready-to-wear.
Attendees at Gerber Technology's upcoming Ideation2015 technology conference will get a chance to hear from "Project Runway" star Tim Gunn, who will give the keynote address at the Oct. 29–30 software conference for the fashion, apparel, accessories and footwear industries in Las Vegas.
New York designer Rosie Assoulin has joined the Mentorship Program at Alvanon, the software and sizing solutions company.
Baltimore-based athletic-apparel company Under Armour Inc.> has selected Los Gatos, Calif.–based Centric Software Inc.'s product lifecycle management (PLM) solution Centric 8 PLM.
Gerber Technologies, the Tolland, Conn.–based equipment and software solutions company, teamed up with the COMESA (Common Market for Eastern and Southern Africa) free-trade area to establish a new program for technical assistance and training in the African nation of Mauritius.
Apparel-industry software program AIMS360 is taught to students at the Fashion Institute of Design & Merchandising, Los Angeles Trade-Technical College, Cal State Poly Pomona, and Saddleback and Fullerton colleges in Orange County, but Henry Cherner, AIMS360's managing partner, is considering expanding the reach of AIMS360's education program.