TRADE SHOWS
By Andrew Asch | April 20, 2017
After 14 years of producing trade-only shows, Agenda will add a consumer day to its July 15 show at the Long Beach Convention Center in Long Beach, Calif.
Emerald Expositions Events Inc. filed for an initial public offering recently. The San Juan Capistrano, Calif.–headquartered company is seeking to raise from $295 million to $310 million, according to media reports.
After a 16-year run as a one-city show, Pooltradeshow announced that it will produce a biannual New York show in addition to its Las Vegas shows.
The inaugural run of Boulevard Prêt-à-Sale, the upscale off-price trade show, showcased a tightly curated mix of 70 upscale menswear brands and drew buyers from Barneys New York, Bloomingdale's, Century 21, Tiger Trading, Harry Rosen, Steinmart, TJX Co., Burlington, Ross Stores and Nordstrom Rack.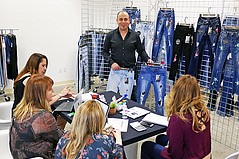 Meetings were held and orders placed during the April 3–5 run of LA Majors Market at the California Market Center showroom building in downtown Los Angeles, but a steady drumbeat of tough retail headlines underscored many conversations during the market.
Trade-show giant UBM Americas is preparing for the launch of MAGIC Japan, a joint venture between the MAGIC trade show and JFW-International Fashion Fair, the biannual apparel trade show organized by publisher Senken Shimbun.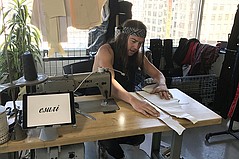 LA Men's Market has been producing trade shows since 2013, but the recent March 28–29 run of the show at the California Market Center looked to freshen up the show and bring in the new.
Construction workers are just starting to put up the walls for a new co-working area by IgnitedSpaces, which will take up an entire floor in one of the California Market Center buildings.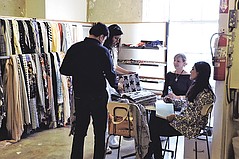 For many buyers and exhibitors, the March 13–16 run of Los Angeles Fashion Market was the last stop in a long trade-show season that included shows three weeks ago in Las Vegas and New York.
Longtime assistant show director Sannia Shahid was recently named show director for the Los Angeles Men's Market. She will run the upcoming LAMM, which is scheduled for March 28–29 in the California Market Center showroom building in downtown Los Angeles.
The 56 booths in the African pavilion were filled with bright bursts of color where countries such as Kenya, Lesotho, Madagascar, Nigeria, Rwanda, Uganda and Ethiopia displayed their various products.
Stitch, the show for women's ready-to-wear fashions, found its groove.
The several ballrooms that make up the Women's Wear In Nevada show at the Rio All-Suite Hotel and Casino in Las Vegas were packed to the gills with booths that sold everything from large colorful hats for church to slip-on sleeves to be worn under sleeveless dresses.
The energy was high at WWDMAGIC, a vast young contemporary and trend-driven show held Feb. 21–23 in the Central Hall of the Las Vegas Convention Center.
It was a time for celebrity endorsements at the Feb. 21–23 run of Project Womens at the Mandalay Bay Convention Center in Las Vegas.
Previous Next