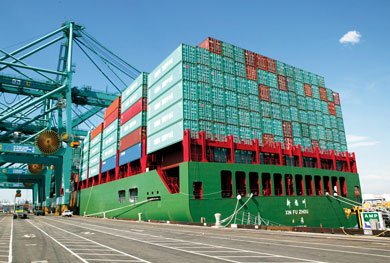 RISING TIDE: Bigger vessels such as this cargo-container ship are calling at the Port of Los Angeles and the Port of Long Beach, making it more difficult to unload cargo quickly.
Stories this photo appears in:

Import & Export
Bob Wysocki of Sears Holdings complained that sometimes it takes as long as one to two weeks to extract his merchandise out of the port complex in Los Angeles and get Sears' cargo containers on a train, where it might take another two weeks to reach a warehouse.
Looming labor problems shaping up at East and Gulf Coast ports this fall have apparel makers, retailers and other shippers scratching their heads and wondering whether they should send their holiday s...