As of Friday, January 23, 2015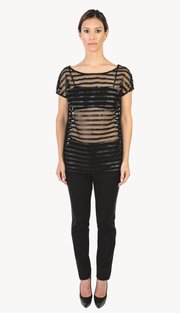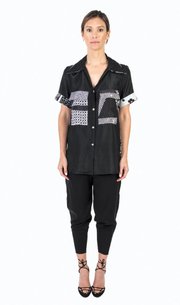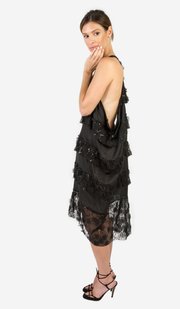 It could have been the end of a career.
In the early days of the Great Recession, Amanda Shi-Werts closed Avita, her Los Angeles–based boutique and recycled-cashmere line. Later that year, she married Mark Werts, the founder of pioneering boutique American Rag, which runs two Southern California emporiums, one in Los Angeles and another in Newport Beach. She started a family in 2012 when she gave birth to her twins, Iggy and Chloe. She also accompanied her husband on his frequent trips to trade shows in Europe and Asia.
A young family can overwhelm any schedule, but Shi-Werts wanted to make a statement with fashion, too. She recently announced the debut of her self-named line, Amanda Shi. The Spring '15 line is manufactured in Los Angeles and hopes to eventually sell across the globe.
The more than 25-piece line, which stresses tops, was made for women 25 to 45. It is a reaction to a market dominated by fast fashion and youth styles, Shi-Werts said. "It's more creativity that is driving me rather than business," Shi-Werts said. "I want to make clothes for women, not girls."
She also hopes to create a line that will serve her aesthetic. "I wanted to make something that is feminine and daring," she said. "I wanted something that is perfectly tailored." Wholesale prices range from $100 to $200 for tops and $200 to $500 for dresses.
The line focuses on a blend of new and old. She found inspiration when browsing through the bales of vintage fashion in the American Rag warehouse. She took inspiration from early- to mid-20th-century American styles and gave them contemporary silhouettes. The line's pieces were named after silent-film stars and the "it" girls of the 1920s such as Norma Talmadge and Zelda Fitzgerald.
The "Edna" top is a body-hugging style with short sleeves. It is made out of a silk/spandex charmeuse and features a lace flower embellishment. The "Zelda" is a silk charmeuse sleeveless top that also hugs the body. The "Anita" is a long-sleeve button-up top with a big, open collar. There is a little black dress inspired by Coco Chanel. Some of the tops feature sheer panels, but Shi promises that the tops will offer enough coverage to cover bra straps and not reveal too much cleavage. However, they will still offer a sophisticated sex appeal. "Sophisticated is the difference between a girl and a woman," Shi said.
Shi-Werts was born in Hong Kong and spent her teenage years in Vancouver, Canada. She moved to Los Angeles in 2000. That year, she designed a line, Be & Shi, and she placed some pieces in Saks Fifth Avenue, Nordstrom, Henri Bendel and Fred Segal. After that, she opened Avita, which she shuttered in 2009. She plans to expand the styles for the Amanda Shi line.
"We started with basic black and white. It's a strong point of view," she said. "For future collections, we're going to add novelty silk. I've really fallen in love with some silks that I've seen while traveling."