As of Thursday, December 10, 2015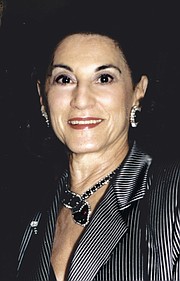 The California Fashion Association celebrated its 20th anniversary this year as it continues to serve as a hub of industry information and insight.
In July, CFA Executive Director Ilse Metchek and several CFA members met with members of Los Angeles Mayor Eric Garcetti's team to discuss the impact of the minimum-wage increase on apparel businesses.
Under Metchek's leadership, the CFA kept its members abreast of the issues of the day through the organization's Protect Yourself newsletters, which covered issues such as copyright and patent infringement, brand liability on social media, labor and employment concerns, and California's "Made in USA" legislation. Members received alerts about the slowdown at the West Coast ports, changes in the state's "Made in USA" requirements and the minimum-wage increase.
Throughout the year, the CFA organized a number of seminars on topics ranging from copyright issues and import regulations to brand development and changes in the plus-size market.
In February, Metchek discussed human-resources issues at a meeting of Fashion Industry Human Resource Association (FIHRA), and in July she spoke at Loyola Law School's second annual Fashion Law Summer Intensive Program. Throughout the year, there were meetings with delegations and trade representatives from Hong Kong, Italy, Peru, Chile, Nepal and Belgium as well as a presentation with representatives from the online sourcing platform Alibaba.
In October, the CFA and CIT cohosted "Take Your Brand to the Next Level," a panel discussion covering brand building, licensing and investment opportunities for apparel-industry executives. In December, Metchek was invited to speak as a regional leader in the fashion industry at the 2015 Milken Institute California Summit, in which state and regional leaders discussed opportunities and infrastructure needs to bolster trade, manufacturing and innovation in the region.
Metchek was also on hand at Moombassa's Digital Concept Store Grand Opening in Shanghai and received the Legacy Award at the National Association of Women Business Owners' Leadership & Legacy Awards.
The CFA's purview includes the Southern California textile industry. This year, the CFA's Textile Association of Los Angeles (TALA) unit fielded textile sourcing inquires and provided more than 760 referrals to TALA members.
The CFA also has a philanthropic arm, the California Fashion Foundation, which continued its support of fashion's next generation through its annual Scholarship Awards and supported the K.I.D.S. (Kids In Distressed Situations)/Fashion Delivers 30th anniversary gala. The CFF is currently planning to host the 68h annual Christmas Event for Children on Dec. 16.