As of Thursday, December 10, 2015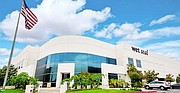 2015 was the year of new beginnings for Wet Seal.
After more than 20 years of acting as a public company, the Foothill Ranch, Calif.–headquartered juniors retailer went private.
The publicly traded company The Wet Seal Inc. suffered through a bruising proxy battle and bankruptcy before an affiliate of Versa Capital Management LLC, headquartered in Philadelphia, acquired the retail chain. In April, the private-equity company took the retailer private under a new name, The Wet Seal LLC.
The company stepped out of the public spotlight, but more changes were to come. In August, Ed Thomas, Wet Seal's chief executive officer, left the company and later landed the CEO spot at action-sports retailer Tilly's Inc.
It was also announced that Melanie B. Cox, a Wet Seal board member and veteran retailer, would helm the private retailer, which continues to run a fleet of 170 locations, including at high-level malls such as Southern California's Del Amo Fashion Center and the Irvine Spectrum.
Cox said that shoppers would see a Wet Seal that is familiar yet new.
"Since I came in as CEO in August, we have been rapidly changing direction and returning to our roots as a Southern California apparel retailer known for casual, effortless style offerings targeting the 18 to 24 demographic," Cox said. "Our 170-store chain is changing nearly 35 percent of its SKUs this holiday season, with a store-design revamp that is enhancing the customer experience from visual presentations to music. Evidence of this new program's success is visible in Black Friday sales, which were up double digits, both online and in-store."
The market for juniors fashions remains highly competitive and has been dominated by fast-fashion emporiums such as Forever 21 and H&M. The question remains—can Wet Seal mount a comeback? Retail analyst Howard Davidowitz said that it is possible.
"If something is well executed and it can capture people's imagination, there will be a niche for it," he said. Davidowitz is the founder of New York investment bank and consultancy Davidowitz & Associates.
But comebacks are tough. "The record is that once a chain hits a certain point, it is unusual to be able to reinvent it." He said the best time to mount a comeback or reinvent a company is while it still has a customer. After a collapse of a company and a bankruptcy, a retailer's customers may have moved on.
"When you still have a customer base, that is when you have your best shot," he said.