As of Thursday, August 25, 2016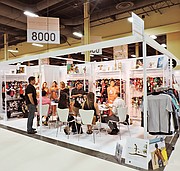 This season, Curve at MAGIC became Curve at Project as the upscale lingerie and swimwear trade show moved to a new space alongside Project Womens at the Mandalay Bay Convention Center after two seasons at the Las Vegas Convention Center. (Curve, which is part of the Eurovet portfolio of trade shows, formed a partnership with MAGIC owner UBM in 2015.)
Liz M. Siabato, senior product specialist, North American division, for Colombian lingerie and shapewear company Leonisa, said she was pleased with the new location.
"Some people came over from Project," she said, adding that she saw a mix of new customers and new prospects.
According to Luli Fama's Gregorio Hanimian, showing at Curve at Project was part of the Florida swim brand's long schedule of trade shows that began in July and would continue through September.
"This show has been good, he said on the second day of the show. "We've seen different accounts including some international accounts, a few new stores. Today we had one come over from Project."
Business was brisk in the Heat swimwear booth, although not as brisk as it typically is, said Lainie Arbesfeld, national sales manager for the Florida company, which produces Heat juniors swimwear separates and the Bingo Surf label. Heat is wholesale priced from $17 to $28 while Bingo Surf's prices are lower.
Arbesfeld said the company saw stronger traffic when the swim labels showed at ISAM at WWDMAGIC.
"Last year, forget about it; we were so busy," she said. "We had quite a few people come to see us [here] and also some regulars."
Most of the retailers came from West Coast stores, although there were a few East Coast buyers as well, Arbesfeld said.
"No matter what, we have to have a person in Las Vegas because people come looking for my brands," she said.