As of Thursday, August 25, 2016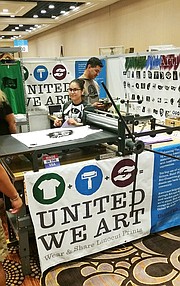 More than a decade ago, Pooltradeshow started as a venue for new brands to gain a toehold in fashion, and during its most recent run at the Mandalay Bay Convention Center Aug. 15–17 in Las Vegas it remained as a place for brands making their first run as well as those with eclectic style ideas.
In February, Pool was held on the first level alongside Project, but this season Pool was on the upper level across from Stitch and Accessories the Show.
Making a return to Pool was Opposuits. The Amsterdam-founded brand manufactures men's suits that retail for $99.99. Its special prints feature the U.S. flag, marijuana leaves and, for those who want to blend in with the crowd, a solid navy blue.
Another vendor was the Tulsa, Okla.–founded The Two Guys Bow Ties, which makes bow ties and hats, among other products, out of wood.
Other brands at the show were relatively mainstream and established. Social Decay, a Brooklyn, N.Y., label, has been sold at prominent retailer Nasty Gal. Jeffrey Campbell, a veteran Pool vendor, which is carried by retailers such as Bloomingdale's, displayed its styles again at the trade show.
The recent run of the show also developed strengths in T-shirt and sock categories. Sock labels such as Sock It Up/Oooh Yeah Socks! made an appearance at the show. Also exhibiting was T-shirt maven Next Level Apparel.