As of Thursday, January 14, 2016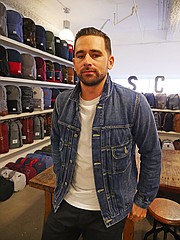 California Market Center, Suite B413
(213) 223-5113
The NTWRK Agency is on the move. In December, the showroom started a massive remodel of its space in the "B" wing of the California Market Center. It also embarked on an expansion. A wall of the adjacent showroom, B-405, was knocked down and The NTWRK added additional real estate.
Now, stretching out over a 5,200-square-foot space, Kellen Roland, NTWRK's president, has scheduled a wrap-up of the remodel when the Los Angeles Fashion Market begins on Jan. 18.
The showroom will keep its open-loft/gallery style. But it will get a spacious conference room, communal office space—which looks out onto the corner of East Ninth and Main streets—and additional room to show its client brands Herschel Supply Co., Native Shoes and Brothers Marshall, an independent surfwear label headquartered in Malibu, Calif. The additional space is crucial to exhibit all of the product from NTWRK clients, Roland said.
"The showroom is our stage," Roland said. "We are a sales and brand-building company, and we tell great brand stories."
More than 35 people work for NTWRK, including independent sales representatives who work outside of the office. However, Roland keeps the client roster small.
"We want to do a few brands really well," he said. "We want to give the highest level of service to brands and retail partners."
Wholesale price points range from $10 to $200 for wallets, accessories, caps, backpacks and luggage for Herschel Supply Co.; $25 to $65 for Native Shoes' footwear; and $20 to $60 for the caps, boardshorts and T-shirts for Brothers Marshall.