As of Tuesday, March 15, 2016
To celebrate the launch of a limited-edition capsule collection created by British TV host/personality Louise Roe and AS by DF designer Denise Focil, the two hosted a party at a chic residence in West Hollywood, Calif. Guests stopped by the March 3 event to sip champagne, view the collection and meet the designers.
This is the first collaboration for Focil and Roe. The three-piece collection, which launched on March 1 online and in stores around the country, retails for $143 to $475. Focil said retailers responded really well to the collection, which includes 150 pieces of each item. "It's a big online presence for us; it has had an awesome response," she said. "[Louise] has a huge following online. We've been promoting it and she's been promoting it. We're almost sold out of the capsule already."
The collection's success is not surprising considering Roe's celebrity and Focil's design talent. The designer recently captured the Moss Adams Fashion Innovator award for her work designing AS by DF and the diffusion line ASTARS, which both fall under the Alpinestars umbrella. Known for its luxe suedes and leathers, AS by DF includes sophisticated yet wearable items such as leather leggings, knit sweaters, fringed jackets and original print dresses. For Fall, Focil has launched a fully reversible leather handbag.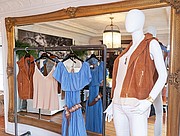 The Louise Roe for AS by DF collaboration was created after a friend introduced Focil to Roe.
"Louise and I really, really clicked from day one," Focil said. "She's a really awesome person to work with. She was so involved, which is rare." Focil said she wanted to find somebody who was like-minded. "I wanted it to be authentic," she said. "It's a first for both of us, and it was really a good fit."
Roe was equally excited to work with AS by DF.
"They're a stylish brand famous for their amazing work with leather and suede, and I was keen to create a killer suede jacket!" she said. "Once I met the brand's founder, Denise, I knew it was the perfect fit. She's an inspiring, kind and creative woman!"
The capsule collection takes inspiration from Roe's travels and '70s icons Lauren Hutton and Ali MacGraw.
"I love their laid-back nature," Roe said. "And also I was inspired by the places I had traveled to recently, in particular, Bali."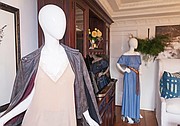 Roe also added her personal touch to the collection.
"I love to make mood boards, I'm constantly screen-grabbing images on my phone, so I used those visuals for a basis and then looked at my own closet for what was missing," Roe said. "I wanted pieces that would make a statement but also fit with the items I already owned. I think that refreshing your wardrobe for a new season should mean you can create a whole bunch of new looks using what you already own too."
To design the collection, Focil utilized blocks and fits from AS by DF and Roe was involved down to the details including selecting fabrics and colors. Together they created the "Bali" off-the-shoulder chambray dress, a blush "Melrose" silk cami and the "Tulum" suede vest decorated with an embroidery design that Roe had spotted on her travels.
"[Louise] sent me photos. I was like, 'Okay, I can interpret that, let me work with that,'" Focil explained. "It was a very organic process."
What's next for Focil? The success of the Louise Roe for AS by DF collaboration has inspired the designer to want to create another one—this time for the company's fast-growing ASTARS contemporary line.
"I have to find the perfect bohemian wanderess for that. I've got to find the right person," Focil said. "I want to find somebody who is as awesome as Louise was to work with."