As of Thursday, March 10, 2016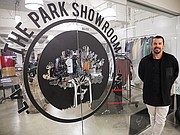 THE PARK SHOWROOM
California Market Center
Suite B583–585
(213) 250-6200
Call it a growth spurt for The Park Showroom.
The Park will open a pop-up showroom on the fifth floor of the California Market Center's B wing for the March run of Los Angeles Fashion Market. After market, the permanent showroom will stretch out. It will expand into 1,600 square feet of space behind its existing showroom in CMC suite B477. When complete, the permanent showroom will be 5,000 square feet, said Eric Martin, the showroom's founder.
The Park is gambling on growth in part to introduce two new clients, Martin said. For the March market, it will introduce Tom Tailor, an opening-price-point fashion brand from Germany. Martin forecast it will be embraced by shoppers of H&M and Zara. Tom Tailor will offer a 500-piece collection, with retail price points of $80 for denim, jackets from $100 to $160, and button-down shirts from $45 to $55 retail. "It will help against market share lost to Zara and Cotton On," he said of retailers wholesaling with Tom Tailor.
The Park will also introduce the Italian denim–based collection Maryley. The women's denim brand retails from $180 to $250. The pop-up showroom also will exhibit several of Park's women's brands, including Woolrich's women's line. The brand's shawls, blankets, flannels and goose-down jackets range in retail price from $80 to $650. The pop-up will also showcase Goorin Bros. hats for women, which retail for $30 to $90, as well as Alternative Apparel's women's styles, which retail from $20 to $60.
The pop-up showroom will look like a traditional trade-show booth, Martin said. "There will be a sign on the door, an invitation to come in and just see the lines themselves," he said.
The pop-up will close after the market. The expansion for the permanent showroom might officially debut by the end of March. The Park has been doing business at the CMC since March 2015 and the showroom has been best known for its men's collections.
Current men's lines include the sibling collections of its women's lines—Woolrich, Goorin Bros. and Alternative Apparel. Also represented are the brands Strand, Duvin, Tailor Vintage (a brand not connected to Tom Tailor), Control Sector and Man X One Teaspoon.