As of Thursday, November 10, 2016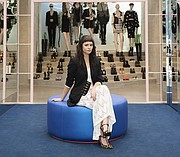 Things are getting downright nasty over at Nasty Gal.
The Los Angeles online shopping site founded in 2006 by Sophia Amoruso filed for Chapter 11 bankruptcy protection on Nov. 9. The decision to file for bankruptcy was made at an Oct. 24 board meeting.
In a press release, the company announced that Nasty Gal had started the process to restructure its balance sheet and position the company for the future. Estimates had Nasty Gal's revenues as $300 million in 2015.
Reports on the technology-news site Recode have Amoruso resigning as executive chairwoman and Index Ventures partner Danny Rimer stepping down from the board.
Last year, Amoruso resigned as chief executive, handing the job over to Sheree Waterson, who had been the president at Lululemon Athletica when the activewear company was rocked by complaints that their yoga pants were see-through.
"Our decision to initiate a court-supervised restructuring will enable us to address our immediate liquidity issues, restructure our balance sheet and correct structural issues including reducing our high-occupancy costs and restoring compliance with our debt covenants," Waterson said in a statement. "We expect to maintain our high level of customer service and emerge stronger and even better able to deliver the product and experience that our customers expect and that we take pride in bringing to market."
The company said it has been exploring strategic partnerships with other strong brands and will continue to explore these options throughout the restructuring process.
Nasty Gal will be looking for early court approval of a plan, and an official committee of unsecured creditors is expected to be appointed to represent their interests in the process.
In court papers, Nasty Gal attorneys said the company owes United Parcel Service $576,950; Callahan Capital $289,332 for its lease on its downtown LA headquarters; Google Marketing Services $232,786; BNB Footwear $293,653, Olivaeous, a women's wear company, $318,816; Endless Rose, a clothing company, $256,714; and Cotton Candy LA, a clothing company in the Arts District, $182,222—with many more companies owed sizeable sums.
Earlier this year, some 19 people were laid off from Nasty Gal, and in 2014 another 20 tech and public-relations employees were let go, resulting in a lawsuit accusing the brand of illegally terminating pregnant employees.
While Nasty Gal started as an online venture, in recent years it opened stores on Melrose Avenue in Los Angeles and on theThird Street Promenade in Santa Monica, Calif.
This year, the 32-year-old Amoruso made Forbes magazine's richest self-made women list with an estimated $280 million fortune.