As of Thursday, November 10, 2016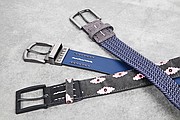 The belt has been the wallflower of most people's wardrobes, said Robbie McKnight, but the humble accessory has design possibilities that few have seen.
"Everyone needs a belt, but it's boring; it's something that you have to wear," McKnight said. Yet why can't a designer cover the sartorial second banana with offbeat colors, McKnight thought. Why can't a brand place some wild art graphics on the belt that would make a star out of the perennial fashion wallflower?
The angle for the belt lies at the center of his Huntington Beach, Calif.–based company called Cuater, which shipped its first accessories in July. It has been placed at leading surf shops along the California coast such as Hobie Surf Shop, Sun Diego, Jack's Surf and Val Surf.
McKnight worked on the idea in 2015 while doing some marketing work for the surf giant Quiksilver Inc., the company's American division, which was cofounded by his dad, Bob McKnight. The younger McKnight felt comfortable with pitching his idea because the notion of taking a supporting player in the clothing game and turning it into an "A" lister has been done before, specifically by Stance, the San Clemente, Calif., sock brand.
Stance took the sock, typically covered up by shoes and pants, and designed it in bright colors and with unique designs. Racks holding Stance socks became revenue centers at surf and fashion boutiques. It became an official sock of the National Basketball Association. It also reportedly influenced a fashion trend for higher ankle cuffs and rolled-up pants.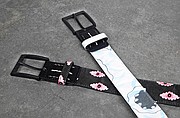 Cuater's belts focus on taking a bold design and printing it on a durable, tear-proof, water- resistant paper fabrication, then stitching it on to a sturdy backing. The line's "Groove" belt features neon-style lines. There's the blue and white tie-dye-style print of the "Turbulance" belt. The "Monster" belt is a collaboration with artist Calvin Saxon, and it features Saxon's graphic of teeth and monster's faces. These belts retail for $29.99.
Another line of Cuater's accessories features the stretch belts. They feature woven materials and no holes. They can be stretched over any size waist, McKnight said. The stretch belts retail for $39.99.
McKnight hoped to cover all styles of the belt. He made some plain brown and black leather belts for the accessory conservative. The leather belts retail for $49.99.
The brand also makes wallets featuring unique prints and artists' graphics as well as caps. Cuater's accessories are made in China.
McKnight hopes that his brand will continue to bringing out different looks in belts. "We're trying to be the game changer with belts. The goal is to make a more complete accessories line with belts being our bread and butter," he said.