As of Tuesday, November 29, 2016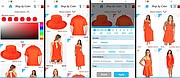 Joe Monastiero wants to clean up online shopping.
His company's app, See It Buy It, which was released earlier in November, uses sensitive algorithms, which the tech savvy call "Deep Learning," to cut out clutter from m-commerce searches, or shopping by smartphone. Monastiero said the app will guide shoppers exactly to the clothing item they are seeking, even if the consumer is not entirely clear on what they are looking for.
Monastiero, founder of Dublin, Calif.–based tech company nFlate Inc., believes the app will create bull's-eyes on every shopping target. "Unless you know exactly what you want, people settle when they shop. Our objective is to eliminate settling. It's about choices," he said.
One way to start working with the app is through a photograph. The See It Buy It consumer takes a photo of a garment he or she wants. When posted, the app's algorithms bring up items that are similar to the photo. Then it continues to narrow down the search through other criteria such as price. There's a social angle to the app too. Shoppers can chat and share media on See It Buy It.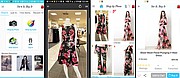 Shoppers also can search through web images and colors. Through the app's interface, consumers can pick a range of colors much wider than other search engines, Monastiero said. "No one has been able to shop by color through an entire catalog," he said.
See It Buy It has partnered with e-commerce platform Shopify, which serves more than 300,000 merchants. Through Shopify, retailers are able to load images of their goods. Currently, See It Buy It is on the Android operating system for smartphones and tablets. It will be released on Apple's iOS system in December. Also in December, the app will rev up an e-commerce platform for those who shop through desktop computers. It is forecast to be a good season for m-commerce and e-commerce. The National Retail Federation trade group predicted that non-store sales, which include e-commerce and m-commerce, will increase between 7 percent and 10 percent to as much as $117 billion during the holidays.