As of Tuesday, October 18, 2016
In Spanish, "la causa" means "the cause," and Rebecca Grenell's underlying mission with her Lacausa clothing line is to make quality garments locally under ethical conditions. Having grown up in Los Angeles, Grenell's designs redefine basics, blending romantic silhouettes with a contemporary bohemian twist, always influenced by the effortless California style.
Rebecca Grenell, owner and designer, launched Lacausa in spring 2013 after learning from her parents, who started their own clothing line, Joshua Tree, in the 1960s, and working for a handful of local designers and fashion companies. Since Lacausa's conception, XCVI has become a partner in the line, and "we are based out of their factory in Downtown Los Angeles," Grenell said.
Fabrics are sourced and sewn in the Los Angeles factory "at the highest standards." The core collection is offered in viscose chiffon, vintage and gauze jersey, and soft slip fabrics, with new fabrications and textures introduced each season in comfortable silhouettes.
"Aside from always expanding the collection with new fabrics and bodies, we are starting a new basics program of easy, great everyday T-shirts that will be available in stock to our retailers as well as in shops and online year round," Grenell said.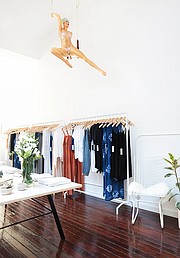 Lacausa has sold in more than 300 boutiques worldwide, including California retailers Madison, American Rag Cie and Revolve Clothing.
"These retailers are our core business, but simultaneously we are working to expand and share the collections more directly with consumers through our brick-and-mortar and online shop," Grenell said.
Lacausa opened its namesake brick-and-mortar boutique in Los Angeles' Silver Lake neighborhood last year.
"I have deep roots in Silver Lake," Grenell said. "My mom grew up there in the 1940s and '50s before moving out to Malibu with my dad. I lived there for many years in my 20s, and my brother and his wife, who have the line Hero Crane, have been there for 20 years. The shop on Sunset [Boulevard] has been in the family for a long time, so to re-create it as the Lacausa shop was a very natural move for all of us."
While Lacausa does rely on social media—mainly Instagram because "it's such a visual medium, which works well for our brand," Grenell said—the designer credits organic growth for the success of the line. "We've been very lucky with growing naturally via word of mouth. Having a brick-and-mortar shop in Silver Lake has been great for exposure as well. We love to meet people at events and trade shows who have found Lacausa from walking into the shop."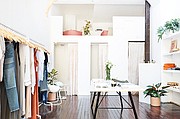 While the current focus is to grow the online business, Grenell said she would love to open a second brick-and-mortar location in Venice in the future.
Retail price points range from $48 to $176 for dresses, $48 to $110 for tops, and $55 to $150 for bottoms. The very popular jumpsuit, which is currently sold out, sells for $165, and outerwear retails between $120 and $175. The brand also carries vintage tees, perfumes that are coconut oil–based and woven totes that are great for farmers markets.
For more information, visit www.lacausaclothing.com.