As of Thursday, August 24, 2017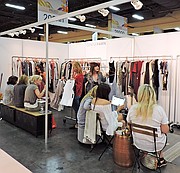 Buyers placing orders for Spring merchandise turned out at a steady pace at the Gentle Fawn booth at the Project Womens show, held Aug. 14–16 at the Mandalay Bay Convention Center.
"We're always really busy. This is our best show," said Sesi Teal, owner of the One Of Eight Showroom in Los Angeles, which represents Gentle Fawn as well as Sam & Lavi, which was showing nearby.
Teal said she saw stores from across much of the country, including several new accounts at the show.
"People are writing January through June [orders]," she said. "We cut to order so you have to order now or you won't have it. [Gentle Fawn is] always a good brand. It sells well for people at good prices."
At the Spiritual Gangster booth, Tasia Skochil, national sales manager, and Caroline Strother, sales representative, were "slammed" on the second day of the show.
"It's been consistently busy, which is really nice," Skochil said, adding that much of the traffic was appointment-driven and buyers turned out from across the country as well as Canada.
It was similarly busy at the Show Me Your Mumu booth, where representatives for the Los Angeles–based line were juggling a mix of appointments and walk-in traffic.
Ashley Morgen, the Southeast rep for the company, was seeing a lot of Florida buyers at the show while other regional reps were seeing more West Coast stores.
"It's primarily appointment-driven, but we got some good foot traffic from new accounts," Morgen said on the last day of the show. "Yesterday was slammed."
Gregg Fiene, owner of contemporary label Lavender Brown, saw increased business but lighter-than-usual traffic.
"We got really nice orders," he said. "We did almost as much on the first day as all of the last show with less customers. Business is strong. My customers are buying more depth of the line. We don't have the customer buying one or two styles."
Fiene said much of the traffic in his booth was from existing customers, but he also landed some new business from retailers who were placing Spring orders.
But he said he also spoke with buyers who said they had to choose among a crowded trade-show calendar that includes big trade shows such as Project as well as regional markets around the country.
"It's hard for me to be out of the office," he said. "There are too many big shows and too many regionals."