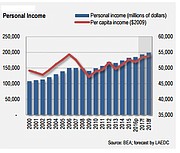 For several years, the U.S. economy has been on a slow slog, improving slightly every year. That scenario should remain in place under President Donald Trump even though he vowed to light a fire under the nation and bring back more jobs to the country.
In its latest forecast for 2017–2018, released on Feb. 22, the Los Angeles County Economic Development Corp. predicted that the nation's gross domestic product—the country's measurement of economic growth—will inch up by 2.2 percent this year and increase to 2.7 percent in 2018.
"Eight years into its recovery from the Great Recession, the U.S. economy remains on track to continue its lackluster growth for the next few years, with few real risks on the horizon to derail it," the forecast said. "The U.S. economy is limping forward on a momentum driven by fairly stable fundamentals, moving in what seems to be a frustrating pattern of fits and starts through each subsequent quarter. Overall, annual economic growth has been positive but less than spectacular."
Meanwhile, Los Angeles County's economy will move along at a slightly brisker pace with its GDP growing 2.7 percent each year, outpacing the nation. That is a slight improvement over the county's 2.2 percent growth seen in 2016.
California is outpacing the nation in economic growth with a 2.4 percent increase in GDP expected this year. That is due, in part, to the burgeoning technology industry that has seen unemployment rates in Northern California drop to almost historic lows. San Mateo County, home to companies such as Apple and Google, has the lowest unemployment rate in the state with only 2.7 percent of the workforce without jobs, followed by Marin County with a 2.9 percent unemployment rate.
On the other end of the spectrum, the highest unemployment rates in California were seen in Colusa County, northwest of Sacramento, with 19.5 percent of the workforce without jobs, followed by Imperial County, southeast of San Diego, which had an 18.8 percent unemployment rate.
Movers in the U.S. economy
Economists expect consumers to help lead the way in pushing the economy forward. Consumer spending makes up about two-thirds of the economy with shoppers being the driving force when it comes to success or failure.
With Trump promising to reduce personal-income and corporate taxes, consumers are feeling more confident about their financial situation and should remain in a buoyant mood. Expectations of a fiscal stimulus will keep consumers confident about their pocketbooks through 2018.
While business investment is a volatile component, making up one-sixth of GDP, it should be on the upswing, growing by 2.9 percent in 2017 and 3.4 percent in 2018.
With reduced taxes, more consumer spending and reduced unemployment, wages and inflation should inch up, leading the Federal Reserve to increase the benchmark interest rate after it was raised last December for the first time since 2015.
California cool
California has a diverse economy with the state being a leader in agriculture, aerospace, entertainment and the biosciences. Nearly all the major industries added jobs, except for manufacturing, which shed 7,800 jobs last year, and energy, which lost 3,700 jobs.
Over the next two years, the industries that will see vigorous growth will be healthcare and social assistance, which will add 121,600 jobs in 2017 and 2018, and administrative and support services, with 120,900 new jobs expected to be created over the next two years.
After falling for two years, the energy sector will make a comeback and add 400 jobs through 2018 and manufacturing will be on more solid ground with a net gain of 14,100 jobs.
Agriculture is a strong economic force in California, but its revenues have declined considerably in recent years due to the drought. The state's highest-value agricultural commodities are milk, grapes, almonds and nursery plants.
In 2015, the latest year that revenue figures were available, farms and ranches generated $42.7 billion, which was an 18 percent decline compared to 2014. It is estimated that in 2015, 5 percent of the state's irrigated cropland was taken out of production in the Central Valley, Central Coast and Southern California due to the drought.
With record rains hitting the state this year, agricultural production should grow.
Los Angeles County continues upward
Since 2011, companies have been churning out jobs that reduced the county's unemployment rate to 5.1 percent last year. That was the lowest unemployment rate since 2007 and way below the peak of 12.5 percent seen in 2010.
Over the next two years, the unemployment rate should dip to about 4.9 percent to 5 percent.
Job creation will be robust in healthcare and social assistance, the county's largest industry sector by employment. About one-third of these jobs are in doctors' offices and clinics, while another 18 percent are in hospitals and 36 percent are in social assistance, such as child daycare and home support services.
As the county's population continues to grow and age, the number of healthcare and social assistance jobs will expand by 16,160 in 2017 and by 15,240 in 2018.
Leisure and hospitality has been another bright beacon with 50 million tourists visiting the area's beaches, movie-oriented attractions and theme parks.
However, the bulk of these jobs are in food services, which pays mostly minimum-wage salaries to its workers. This sector is expected to add 18,880 jobs by 2018.
The retail industry started improving in 2010 after bottoming out in 2008 during the recession. This sector will continue to create jobs through 2018 but at a modest 1.4 percent a year as consumers shift their shopping habits and gravitate more to e-commerce sites. That growth translates into 11,670 new jobs.
With more people employed, per capita income in Los Angeles County has been rising since 2013, reaching $48,840 in 2015 and forecast to reach $51,610 by next year.
The housing industry, which was roaring before the recession, has made some good gains in recent years, but recently things have been lukewarm.
New home construction peaked in 2004 with 26,935 units permitted before falling to a low of 5,653 units in 2009. New home construction has increased at a gradual pace to 20,213 in 2016.
Also, the rising share of new housing permits has been for apartments and condominiums rather than individual houses. Between 2000 and 2005, the average share of single-family permits averaged 46 percent of total new home construction. Since then, it has steadily declined to just 23 percent in 2016.
The median price of a home in Los Angeles County hit a high in 2007 of $532,281 and then declined to $316,469 a few years later. In 2016, the median price inched up 6 percent year over year to hit $519,300.