As of Thursday, March 2, 2017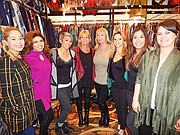 The several ballrooms that make up the Women's Wear In Nevada show at the Rio All-Suite Hotel and Casino in Las Vegas were packed to the gills with booths that sold everything from large colorful hats for church to slip-on sleeves to be worn under sleeveless dresses.
About 2,800 buyers, or 13 percent more than last year, showed up for the Feb. 20–23 event, which featured women's clothing and accessories. There were more than 500 exhibitors representing some 1,500 lines.
Because WWIN started one day before many of the other Las Vegas shows, the first day was buzzing with activity. Jennifer Hutton, whose Los Angeles showroom represents five lines of clothing—such as Impulse California, Fantazia and Michael Tyler—said the first day was very good but the second day was very disappointing.
Her retail clients, she noted, are being cautious. "My stores say that business isn't good, and they are backed up with goods," she said inside a triple-wide booth that carried hundreds of pieces of clothing she brought with her large team of salespeople.
Business ebbed and flowed, depending on the ballroom and the categories. Karyn Seo, the owner and president of Caite—whose embellished goods sell under the Caite, Kyla Seo and Love Kyla labels and are manufactured mostly in India—has been exhibiting at the show for 15 years. She sells to 2,000 specialty stores as well as major catalogs that want a fashionable item at moderate prices.
This was one of her best shows. "We've seen a lot of people," she said. "Sometimes people come to browse, but a lot of orders were taken."
Not everyone had an upbeat market. Rita Toro, an account executive for the New York sweater and faux-fur company Lisa International, said her business was probably down about 50 percent from August, but she blamed it on not bringing any updated merchandise to the show. "I didn't come with any newness," she said. "I think retailers want to see something new and something different at a good price."