As of Thursday, March 2, 2017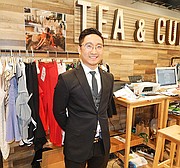 The energy was high at WWDMAGIC, a vast young contemporary and trend-driven show held Feb. 21–23 in the Central Hall of the Las Vegas Convention Center.
The three-day event is always a study in creative booth designs, which give the humongous space a more relaxed and festive air than some of the other apparel trade shows held at the same time.
Whimsy was seen in the tall bubble-headed mannequins that sported over-sized eyeglasses outside the booth housing the Los Angeles young contemporary line Ina, designed for the 25-to-35-year-old woman in mind.
This is the fifth year that Ina owner Rennan Joo has attended the show. "This is a good show for getting new customers," said Joo, who posted on Instagram and sent out emails that his company would be at WWDMAGIC.
About 60 percent of the retailers he saw were from Latin America and another 40 percent were from the United States. They were checking out the delicate lace-driven styles that Ina manufactures in China.
Nearby was the wood-paneled booth for Tea & Cup, another Los Angeles label attending the show for the second year in a row. Ivan Kim, a company director, was nattily dressed in a three-piece suit and tie, as were his male team members, who were ready to write orders for the 5-year-old line.
About 70 percent of the people he saw were returning customers and the other 30 percent were new buyers looking for something different. Tea & Cup's line is heavy on ruffles, abbreviated silhouettes and styles in bright primary colors. The collection is popular with South American boutiques—particularly in Colombia. "So far the show has been okay," Kim said. "The first day was good, and the second day was a little slower."
Another relative newcomer to the show was juniors line Miley + Molly, based in Los Angeles. Some of its retail customers include Forever 21, Charlotte Russe, Fashion Nova and Papaya. "This is the third time we are doing the show, and every time we attend it is getting better," said Joanne Kim, a vice president with the company.
She had met with several specialty-boutique retailers who often do their reordering online.