As of Friday, March 3, 2017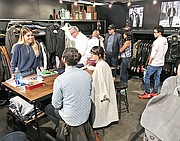 Print media is still a powerful medium. Just ask the cofounders of the Krammer & Stoudt label.
On Jan. 30, The New York Times featured the emerging label in an article on men's fashions during New York Fashion Week. Fast-forward to the Liberty Fashion & Lifestyle Fairs, which ran at the Sands Expo Feb. 20–22, and Krammer & Stoudt's Courtenay Nearburg and Mike Rubin estimated that they received double the orders they made during the February 2016 Liberty show in Las Vegas.
However, Rubin noted that an element of risk remains with all trade shows. "You don't know where people are going to show up and buy. It's weird that way," he said.
During its recent run, Liberty was a big market for all sorts of men's styles, ranging from suits to denim, streetwear to accessories. Other vendors also spoke of the risk present at all trade shows. "Ultimately at shows you have to expect that you have one opportunity to gain a buyer's attention," said Jason Schott of the Schott NYC label. "It's a quick impression, a little face time, then you have to do a lot of follow-up." Los Angelenos will see a lot more of Schott. In late March, it is scheduled to open a new store on the city's La Brea Avenue.
But the risk was worth it to many vendors. Retailers such as Bloomingdale's, Holt Renfrew, Neiman Marcus, Kith, Ron Robinson and LASC visited the show. Booth real estate was about even with the Liberty show from February 2016, according to trade-show management. A new section called Alt-Terrain made a debut at the show. It was developed in partnership with Gear Patrol magazine and was devoted to active- and outdoor-lifestyle brands.
Brands saw Liberty as a good forum to make their trade-show debut. Making an introduction was Viven, with offices in Santa Ana, Calif., and Shanghai. The T&A Showroom formally introduced its 150-piece Le Cruz streetwear line and also reintroduced the Von Dutch line. Alfred Davis, T&A's co-owner, said that the new Von Dutch will adhere closer to the original art of founder Kenny Howard, not the tattoo graphics that popularized the brand in 2004. Canadian brand Vitaly introduced a denim line at the show.
The Moods of Norway brand showed samples for its Fall '17 and some Immediates for its Spring'17 line at Liberty. "Liberty is a great platform," said cofounder Stefan Dahlkvist. "We pretty much see all of our wholesale accounts during the show's three days."
At the show, Darrel Adams, owner of the Kin boutique, noted that he saw a lot of classic men's suiting on the show floor. Alfredo Izaguirre, buyer for the LASC boutique, said that athleisure remains an important trend. He also saw T-shirts featuring looser, less form-fitting silhouettes.
Izaguirre hopes that retail emerges from a tough season this spring. Cold, rainy weather in Los Angeles County kept people from shopping. Many upset about the election of Donald Trump to the U.S. presidency also have not been in the mood to shop in heavily Democratic Los Angeles County, Izaguirre said. "If people are not in a good mood to shop, there is not much you can do," he said. "Hopefully as the weather gets warmer things will get back to normal."