As of Thursday, November 16, 2017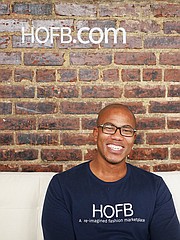 For many independent designers and brands, the goal of selling to department stores and major specialty retailers is out of reach because of the challenge of finding the right retail contacts and the manufacturers who can produce in volume for major retailers, said Gabriel Ankamafio, chief executive officer of the Los Angeles–headquartered e-commerce marketplace HOFB (House of Fashion Brands ).
He said that HOFB will become an enterprise marketplace platform for independent designers where retailers can browse designers' goods and manufacturers associated with HOFB will produce the goods that the retailers select. Located at www.hofb.com, the marketplace is scheduled to make an official launch in March 2018, Ankamafio said.
"We are trying to bring designers who are not known to the forefront, especially with fast fashion," he said.
HOFB opened an office in July a few blocks from the University of Southern California, just south of downtown Los Angeles. The neighborhood offers a flavorful, urban milieu. It is the address for a light-rail station and a boutique for the Pros & Cons skate and streetwear shop as well as a studio for a fortuneteller.
Ankamafio grew up in Ghana, attended Roberts Wesleyan College in upstate New York and ran footwear factories in China from 2012 to 2015, he said. He chose to locate HOFB in Los Angeles because of the region's sizable population of computer-programming talent and its position as a supply-chain hub to Asian factories.
Similar to a social-media site, HOFB will give designers a space for profiles called Studio Pages. Designers will upload pictures of their designs, and retailers can browse the profiles.
If a retailer places an order, a manufacturer working with HOFB will start working on it. The purchases can range from samples to mass orders. Ankamafio plans to work with manufacturers from around the world. Designers and retailers headquartered in a specific region can work with a manufacturer located near them. HOFB works with certification companies such as SGS and Bureau Veritas to confirm that manufacturers associated with the site have good reputations for quality, delivering on time and following the law.
HOFB will make money by managing the marketplace and by working on orders to the site, Ankamafio said. The marketplace will focus on mass retailers and eventually will build a model for smaller, independent retailers.
Los Angeles–area fashion designer Reynaldo Aquino joined HOFB and hopes that it will make the sales part of his job easier. It will be a shortcut to retailers who are open to selling his men's fashion line, Fortis Orbis Atelier. He won't have to make cold calls. "No more making appointments and lugging samples and tear sheets around to showrooms," Aquino said. "As far as manufacturers go, I think HOFB will help designers not to worry about getting our garments done right and on time."