As of Friday, October 27, 2017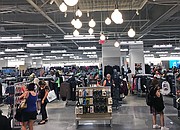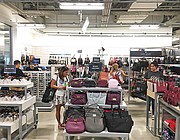 Nordstrom Rack opened a 27,000-square-foot space at the Fig­at7th retail center in downtown Los Angeles' Financial District on Oct. 26.
It moved into a space formerly occupied by Sports Chalet. Nordstrom Rack's Figat7th neighbors include Target, H&M, Zara, Victoria's Secret and Pink.
Nordstrom Rack is the nameplate of Nordstrom Inc.'s off-price division. Branded items are typically 30 percent to 70 percent off the retail price at the store. Seattle-headquartered Nordstrom runs a fleet of 227 Nordstrom Rack stores.
The opening took place during a busy time for Nordstrom. Earlier in the month it opened a full-line store at Westfield Century City in Los Angeles' Century City enclave. On Oct. 12 it unveiled a two-level, 145,000-square-foot store at the Westfield UTC retail center in La Jolla, Calif. The full-line Nordstrom relocated from another section of the mall. Nordstrom closed its original UTC location, which had been in operation since 1984, when the new store opened.
Also in mid-October, members of the Nordstrom family informed Nordstrom Inc.'s board of directors that it had suspended active exploration—at least for the balance of the year—of its proposal to take the company private. The family members included the trio of co-presidents, Blake W. Nordstrom, Peter E. Nordstrom and Erik B. Nordstrom.