As of Thursday, April 12, 2018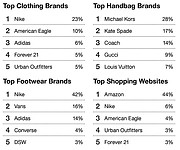 This year, teens in the United States spent 38 percent of their shopping time at traditional department and specialty stores—down 3 percent from last year—while 19 percent of their shopping time was spent online compared with 17 percent last year. Amazon.com retained its position as the top online marketplace for teens.
Those were some of the findings from the 35th semiannual "Taking Stock With Teens" survey, conducted by investment bank Piper Jaffray, which surveyed the spending habits of 6,000 members of Generation Z, whose average age was 16.
Piper Jaffray found that teens' overall spending since last fall increased 6 percent—but 2 percent when compared with spring 2017. Thirty-eight percent of teen spending is devoted to clothing, shoes and accessories. Video-game spending was up 14 percent from last year while beauty purchases grew 4 percent.
With an annual contribution of $830 billion, Generation Z generates 7 percent of retail sales within the United States. Teenagers estimated their own spending at $2,600 a year.
As the return to 1990s fashion continues, interest in athletic apparel and streetwear is also growing, evident in growth at brands that dominated that era, including Adidas—now the third-favorite clothing brand; Vans—which stands as the No. 2 favorite footwear label; and Champion, which recently launched a sneaker line. In addition to these labels, streetwear brand Supreme secured the seventh-favorite apparel brand spot.
Though it retained the top position as the No. 1 favorite apparel brand, Nike experienced a decrease in mindshare, dropping to 23 percent from 31 percent in Spring 2017. With its move into the top three, Adidas doubled its mindshare from 3 percent to 6 percent as a top clothing brand. Despite Adidas's impressive position, Vans experienced an increase from 9 percent to 16 percent in the footwear category.
In addition to the decline of Nike, Ralph Lauren fell to number 12 in the survey, making this the first time the brand was not listed in the top ten since the study began in 2002.
While the report showed Facebook engagement stabilizing with 45 percent of those surveyed using the site within the past month, 83 percent of teens used Snapchat and 82 percent have been on Instagram. Teens admit that Instagram is the best method for branding.
Of the teens surveyed, 55 percent were male and 45 percent were female with an average household income of $66,300.