As of Thursday, May 2, 2019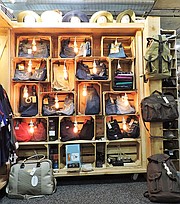 Discounters, retailers and boutiques were looking for below-wholesale steals during Offprice, which ran Aug. 11–14 at the Sands Expo and Convention Center.
At the D&L Apparel Ltd. booth, the Chicago-based company's vice president, Brandon Cooperman, reported a lot of business at his booth, constructed with wood displays that offered a welcoming, general-store atmosphere. "In this show, I've probably had the most appointments that I've ever had," he said.
Following a positive trend that began a few seasons ago, he reported that his various labels of men's, women's and children's apparel and accessories were popular, but Levi's jeans and Tommy Bahama were receiving the most attention.
"Pretty much, if they see something they like, they're writing it," Cooperman said. "Previous shows, they would take notes, may or may not come back. The last couple of shows—if they see it, they like it, they write it."
Not only were there opportunities to sell overstock from Los Angeles–based Fantazia, but the owner of the misses apparel manufacturer was also promoting his Western-influenced line to buyers from Colorado, San Diego, Texas, Oklahoma and North Carolina.
"Over two days, I have 10 new customers," said Dany Separzadeh. While he was excited to sell the Western-influenced line, he didn't lose sight of his mission at the bargain-oriented show.
"From jackets, blouses to coats, I come to sell leftovers," he said. "I give them better prices. They take it from here."
At the Get Lucky booth, buyers from Ross Dress for Less, Winners and smaller boutiques sought deals on women's evening and resort pieces.
"We're getting a lot of mid-range boutiques, a couple of the big guys come through," sales representative Michael Rudes said. "Everybody wants great deals, great quality and immediate deliveries. People are looking for specifics. They have a shopping list."
Despite the deals found at Offprice, the show was high on the list for some buyers who just wanted to gauge the climate for new inventory. After arriving from Maryland for his third year, Greg Branch, who owns Talley Ho DRB Sportswear,explained that this show was his first stop to search for small quantities, such as hats and jackets.
"If it does good, I can just call the company and get more," he said. "That way, I don't buy something that doesn't do well and I am stuck with it. It's more bang for the buck because I also have an embroidery company."