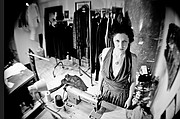 Since August, designer Maya Reynolds, whose brands include Clade and Uncommon Thrds, has ventured into the cryptocurrency world by doing a handful of sales in bitcoin.
It started with an inquiry from a client who wanted to pay for a custom order with bitcoin. To set up a digital-wallet account, Reynolds downloaded a Coinbase app, which provides a platform for buying and selling cryptocurrency, and then she set up an account.
Her client, Crystal Rose—who is an advocate of cryptocurrencies; cofounder of tech company Sensay; and the partner of Brock Pierce, who runs the Bitcoin Foundation—scanned a QR code connected to the account, which transferred funds to the designer's account.
Reynolds works in bitcoin for practical and altruistic reasons. There's a potential to lose business if a customer wants to pay in a cryptocurrency.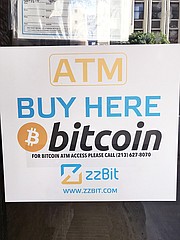 "If you have funds tied up in crypto, then it can make sense to use it directly for payments," said the designer, who believes there is an upside to business if she operates in cryptocurrency. "You don't have to pay fees associated with transferring it back into [U.S. dollars]."
There is also the possibility that cryptocurrency can go up in value after a purchase. So a payment for $100 can potentially double or triple, Reynolds said.
There's also the potential that the payment can lose value. Reynolds plans to save her cryptocurrency, see whether its value increases, and then redeem it for U.S. dollars when she needs to buy goods and pay vendors.
She also believes cryptocurrencies will bring more sunshine into the finances of the fashion world through blockchains, which record all previous bitcoin transactions on a product. "If these practices can be logged and revealed to customers via blockchain, then the public could understand clearly who is making their clothes, what goes into the manufacturing process and why the cost is what it is," she said.
In August, e-commerce retailer Overstock announced it would work with digital-asset exchange ShapeShift so its customers could pay for Overstock goods with cryptocurrencies. The retailer does not demand that customers set up an account to make payments in cryptocurrency. Rather, the payment is recorded on blockchain and serves as the purchase order and the sales receipt. Possible refunds can be made in cryptocurrency too.
Overstock was founded by Patrick Byrne, and the use of cryptocurrency follows his libertarian philosophy. "Overstock is pro freedom, including the freedom of individuals to communicate information about value and scarcity without relying on a medium created through the fiat of unaccountable government mandarins," he said. "For that reason, we have been an early proponent and adopter of cryptocurrencies."
Overstock and Reynolds are pioneers in this field even if major financial players are not comfortable with it. Bank of America, Citigroup and JPMorgan Chase have barred its customers from using their credit cards to acquire cryptocurrencies because there is too much volatility and risk involved in cryptocurrencies, according to media reports.
Some people believe cryptocurrencies are still in their infancy. Amitaabh Malhotra, chief marketing officer of Omnyway Inc., a 4-year-old cloud-based retail tech company in San Francisco, said the cryptocurrency market must mature if it is to be embraced by more retailers.
"It's going to need stability with value," Malhotra said. "The fluctuations we are seeing are not what large retailers are comfortable with."
However, people are thinking about ways that retailers can work with cryptocurrencies. Malhotra forecast that retailers could use cryptocurrencies as part of a loyalty program. For example, make a big purchase at a retailer and get awarded with cryptocurrency points.
"It doesn't make much sense as a payment function yet," Malhotra said.
Consumer demand will drive retail adaption, said Rose, the client who purchased clothing using cryptocurrency. "Crypto is easy to use, mobile, digital, irreversible and mostly transaction fee free. Fees often happen on the side of the sender rather than the receiver, so a retailer might like the 0 percent fees. It's the evolution of instant payment and works like cash without the hassle of the paper," she wrote in an email.
However, Jay Clayton, chairman of the U.S. Securities and Exchange Commission, has warned that cryptocurrencies are easy targets for fraudsters.
On the other side of the spectrum, J. Christopher Giancarlo, chairman of the Commodity Futures Trading Commission, said cryptocurrencies are part of a new world. "Virtual currencies mark a paradigm shift in how we think about payments, traditional financial processes and engaging in economic activity," he said at a U.S. Senate Banking Committee hearing on Feb. 2.
Bitcoin is a decentralized digital currency. No central bank or single administrator governs it. Transactions are anonymous, but they are recorded in public ledgers called blockchains.
Markets, financial regulators and consumers are trying to make sense of what to do with cryptocurrencies such as bitcoin. In 2008, a research paper advocating the use of a peer-to-peer payments system called bitcoin was released. Almost a decade later, the cryptocurrency has made news for its wide fluctuations and its potential possibilities.