As of Thursday, May 2, 2019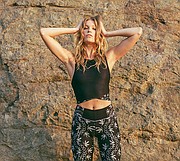 For Kiran Jade, training as a yoga teacher also served as her market research for a new line.
While learning how to lead yoga classes, she also tested different fabrics to find out which would be the best fit for the activewear brand she hoped to start.
She thought the fabric needed to wick away sweat, have stretch, be sturdy enough to make it through an exercise class and not hurt the environment.
To be more sustainable, she picked RPET fabric, a stretchy fabric produced from recycled plastic bottles. She claims the fabric she chose goes the farthest in sustainability. Other fabrics use only 50 percent to 79 percent RPET material, she said. About 84 percent of the fabric she uses is made from recycled plastics. It's the foundation of her downtown Los Angeles–headquartered activewear company Wolven Threads.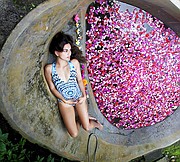 Since then, she and business partner Will Ryan have sought to mix art inspired by South Asian tradition with form-fitting silhouettes.
Jade and Ryan make patterns inspired by mandala symbols and designs used in yoga studios. One popular design is the brand's "Heliocentric" pattern, which features a sun-like object. Other designs feature stars and other geometric patterns.
For fashion, the label offers reversible tops, with one side having a solid color. Some of the brand's crop tops offer details such as three straps in the back. Other silhouettes feature bra tops, sleeveless tees and long crop tops. Leggings include details to make legs look longer, Jade said
The label also makes mini-dresses for women as well as tees and jogger pants for men.
Next up for the activewear label is a bigger commitment to swimwear with a bikini line being unveiled this fall.
The brand is sold at e-boutiques, including Dolls Kill and Evolve Fit Wear; atWolven Threads' direct-to-consumer channel; and at pop-up shops set up at music and yoga festivals.
Retail price points range from $84 for leggings to $129 to $154 for one-piece swimsuits.