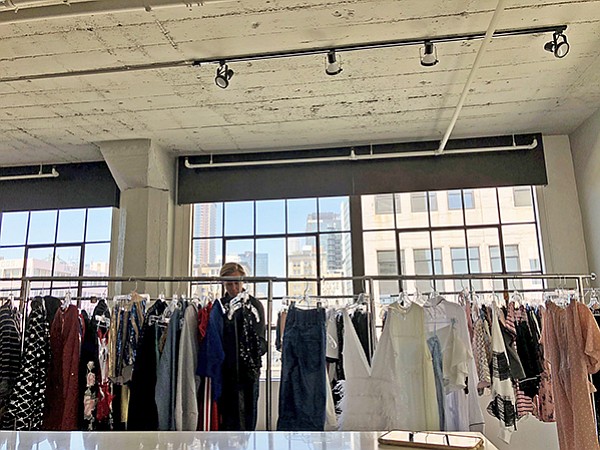 WET SEAL'S COMEBACK
Wet Seal Plots Comeback For Social Media Age
A comeback for Wet Seal is being assembled in a 1,800-square-foot industrial work loft in downtown Los Angeles.
It's much different from the retailer's former sprawling headquarters and distribution center in Foothill Ranch, Calif., 47 miles south of Los Angeles.
That office closed more than one year ago when Wet Seal's business model stopped working for the company, said Ramez Toubassy, the president of both Wet Seal and Gordon Brothers Brands, which is a division of Gordon Brothers, the investment firm acquiring Wet Seal's intellectual property for $3 million after the retailer filed for Chapter 11 bankruptcy protection for a second time in 2017.
Perhaps the only thing that remains of the pre-2017 Wet Seal is its name and its customer demographic, which falls between the ages of 13 and 40. Last year, Wet Seal shuttered its once-large fleet of bricks-and-mortar stores and is now a pure-play or Internet-only retailer at www.wetseal.com, Toubassy said.
It has no immediate plans to return to physical stores because its new model calls for it becoming an "assetless brand company," the Wet Seal president said.
With this model, a brand outsources businesses such as retail, distribution and fulfillment to third parties. "Then [brands are] free to focus on what brands do best, nurturing and growing their connection and relevance with customers," Toubassy wrote in a 2017 paper called "The New ABCs of Consumer Brand Reinvention."
"Enter the assetless brand company, an innovative new entity that keeps a brand's name but reduces its balance sheet and just might be the future of branding in the 21st century," he noted.
A keystone to this strategy is spreading the word on Wet Seal's styles through high-profile bloggers and social-media personalities.
The test for Wet Seal's new model was launched on June 4, when it released a collaboration line with YouTube stars Niki and Gabi DeMartino, 23-year-old twins who claim to have 6.6 million YouTube subscribers. The collection, called Niki & Gabi, includes everything from accessories and tops to dresses. Core retail price points range from $15 to $35.
Other once-high-flying brands, including Bebe, have experimented with shedding stores and going digital. Becoming a digital company is something Wet Seal should have done a long time ago, said J'Net Nguyen, creative director for marketing research company The Right Brain Studio. "Wet Seal became outdated. They weren't cool," Nguyen said.
One reason Wet Seal lost market share was that the retailer had not engaged with its customers through social media. "If they engage with the right influencers and they engage with the right people, they can revitalize their brand and be cool again," Nguyen added.
However, while going digital-only may look easy, said Wendy Bendoni, the chair of the fashion marketing department at Woodbury University in Burbank, Calif., "It's a Hail Mary pass to go online," Bendoni said. "You have to understand the community that you're trying to drive your brand to and have a very authentic voice."
Authenticity can be taken down to a granular level. If a retailer does not post images with an en vogue photo filter, consumers will not view them. If a retailer does not work with the right bloggers and social-media stars, consumers won't be interested in what the retailer is selling.
Wet Seal knew it needed to close its stores, but the difficult part was calculating how to go forward, Toubassy said. "The biggest challenge, with all the mall-based Wet Seal stores closing, was figuring out how to let our customers know that we were back in a big way online. With so many companies trying to grab their attention, traditional media methods have a limited impact. We have opted to take a more organic and entrepreneurial path by rebuilding the customer base in an authentic way, heavily using email and social media to let people know we are back," he said.
Expect to see more collaboration with bloggers. "We really hope bloggers and influencers will start to see Wet Seal as a canvas for them to express their unique fashion point of view, and we plan to dedicate significant resources to building these programs for the foreseeable future."
The retailer also hopes to give its consumers a say in what product it makes through its Seal Squad, which offers discounts and prizes to shoppers who sign up for the promotions.
People in the Seal Squad can vote for products in each weekly drop. Data gathered from the votes will allow the retailer to make more products based on shoppers' likes.
The company is also getting faster. It releases 100 new styles every week. It currently makes tops, bottoms, dresses, footwear and accessories. Later in 2018, it will introduce sunglasses and beauty products.