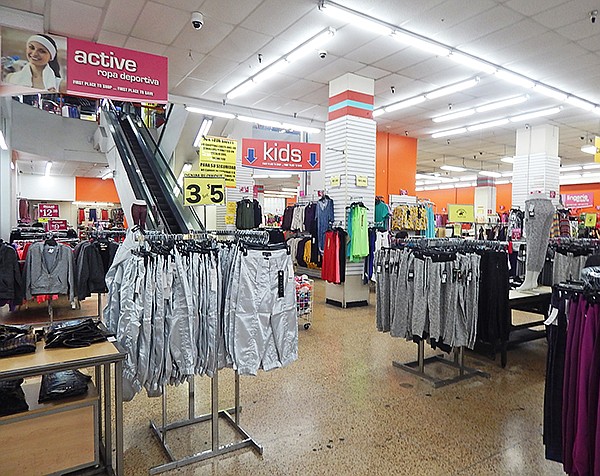 NATIONAL STORES SAVED
New Company to Take Over Some National Stores Outposts
After filing for Chapter 11 bankruptcy protection in August, National Stores has found a way to keep some of its stores open after announcing it was closing all of them.
Second Avenue Capital Partners, a Schottenstein-family affiliate that is a finance company, said on Nov. 27 it closed a $20-million, asset-based credit facility to fund the purchase and ongoing working capital for a new entity called Fallas Stores.
Fallas Stores will be purchasing 85 stores from National Stores during a bankruptcy-mandated auction, the company said. In October, National Stores said it was closing 184 of its stores, which operate under the nameplates Fallas, Fallas-Paredes, Factory 2-U and Falas in Puerto Rico.
The new Fallas Stores will work under the same model as the National Stores, selling discounted apparel and other merchandise and buying from the same vendors who sold goods to National Stores before.
The new stores will be spread out over seven states and Puerto Rico and remain headquartered in the Harbor Gateway area of Los Angeles. Some 2,500 employees will keep their jobs at the retail outposts, but about 6,000 are losing their posts in the more than 340 stores that used to span 22 states.
Michael Fallas, who was the chief executive of National Stores, which included the Fallas-Paredes and Fallas nameplates, will be the CEO of the new Fallas Stores entity. "We found exactly what we needed in Second Avenue Capital Partners," he said in a statement. "We were looking for a lender committed to our business plan. What we found in SACP was a lender that understood retailers and the challenges we all encounter in today's difficult retail environment."
The Schottenstein family, affiliated with Second Avenue Capital Partners, which was launched in May, has long financed a number of fashion retailers including American Eagle Outfitters and Designer Shoe Warehouse, also known as DSW Inc.
Also associated with the Schottenstein family is SB360 Holdings, the parent company of Second Avenue Capital Partners and SB360 Capital Partners, a liquidator that is helping to sell off some of National Stores' inventory. Jay Schottenstein, who is chairman of SB360 Holdings, is also the chairman of shoe retailer DSW Inc. and the chairman and CEO of American Eagle Outfitters.
Chris O'Connor, president of Second Avenue Capital Partners, said Fallas came to his company with a plan for carrying his business forward. "We provided the financing and flexibility he needed to put his plan into motion," O'Connor said. "With our connections to the retail space, keeping 85 stores moving forward and preserving 2,500 jobs is tremendous motivation."
National Stores, owned primarily by Michael Fallas, who took over the company from his father, Joseph, caters to the Latino market with bargain-basement prices that fall between $10 and $25. Its first store opened in downtown Los Angeles at Broadway and Fifth Street in the 1960s.
The retail chain, in its bankruptcy documents filed on Aug. 6 in U.S. Bankruptcy Court in Delaware, said it had $111.4 million in liabilities. Assets were listed between $100 million and $500 million.
Previously the company had said its bottom line had suffered setbacks from some underperforming stores, which were exacerbated by severe weather in various regions, including in Puerto Rico, which was badly hit by and is still recovering from last year's Hurricane Maria.
The company also suffered financial losses from its acquisition of 44 Conway Stores in 2014 for an undisclosed price. Earlier, in 2004, National Stores acquired the ailing Factory 2-U chain. In 2015 it acquired 41 Anna's Linens stores in a store lease–takeover auction. The stores were rebranded Anna's Linens by Fallas.
National Stores owes hefty sums of money to its apparel and merchandise suppliers, who have complained they may be getting only pennies on the dollars they are owed as unsecured creditors.
In court documents, National Stores said it has between 200 and 999 creditors. Some of its major creditors, all apparel manufacturers located in New York, include Armouth International, owed $15.6 million; One Step Up, owed $10.3 million; Louise Paris, owed nearly $4 million; and Seven Apparel, owed $3.9 million.
Last year the computers at the various stores in the National Stores chain were subjected to a malware attack that lasted from July 10 to Dec. 11, 2017. The affected payment-card information may have included names, payment-card numbers, expiration dates and security codes. Because of the attack, the company said its access to its operating funds diminished.