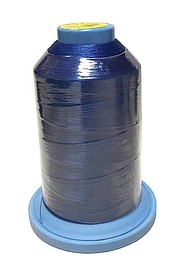 To decrease the threat of counterfeit products in different industries, Applied DNA Sciences has introduced a biochemistry-based innovation in apparel authentication. By partnering with North Carolina–based thread manufacturer American & Efird LLC( A&E), Applied DNA Sciences unveiled a DNA-tagged thread that includes a DNA marker, which can test authenticity by adding a small amount of activator fluid to a swab that has been brushed on the product to collect a sample.
"Up until now, people used RFID [radio frequency identification], which is a very typical technology, but it's not specific to the brand," said MeiLin Wan, Applied DNA Sciences' vice president of textile sales. "You can't use the RFID to go to court. DNA has the real big benefit of being considered in court as forensic evidence."
Through investing in anti-counterfeiting science at the beginning of the supply chain, manufacturers will not only deter counterfeiters but increase retailer confidence when selling to consumers. To test its technology and garner credibility for its work, Applied DNA Sciences, based in Stony Brook, N.Y., partnered with the largest thread manufacturer in the United States and second largest in the world.
"More than a year ago, we began to discuss with American & Efird the possibility of building in authentication into the thread that is used to make the garment," said Dr. Michael Hogan, vice president of life sciences at Applied DNA. "Our goal, from a technical perspective, was to build two kinds of identification into the thread."
The technology Hogan and his team developed was a method of applying a brand-specific DNA to thread during the manufacturing process, but it also includes Beacon, the company's proprietary invisible dye. To activate Beacon and prove authenticity, the garment is brushed with a swab that becomes fluorescent under a black light after activator fluid is applied. By swabbing the fabric, testers at the end of the supply chain can verify a genuine article without damaging the product.
"If you're a buyer and a garment shows up, it should pass two tests," Hogan explained. "One, it should have the Beacon on the seam that shows up with the swab. Secondly, they could do the test and see that it has the brand-specific DNA tag. We can produce a different DNA for every supply chain."
Across different industries, Applied DNA Sciences has provided DNA tagging as a type of verification to ensure authenticity of an array of products—from military electronics to Pima cotton. With a growing segment of consumers valuing product quality, sourcing and manufacturing transparency, this type of technology provides peace of mind to customers.
"The technology has become smaller and more portable. For the first time, now a garment can show up at a retailer, be swabbed and have a DNA test done there," Hogan said. "We've just entered a world where it will be quite ordinary to ask whether my Brooks Brothers or Lacoste shirt or my Versace bag has the right DNA on it."
By partnering with A&E, Applied DNA Sciences found a trusted partner that has been in business since 1891. With its array of thread products, A&E's broad client base includes customers who use threads for industrial sewing, embroidery, consumer products and technical textiles.
"Part of our customer base has a need for traceability, whether it be for anti-counterfeiting or—if a brand contracts a manufacturer or full-package supplier—they want assurance that the thread they are specifying ends up in the garments they produce," said Chris Alt, A&E's executive vice president. "Applied DNA had a unique and revolutionary solution."
Over the course of the past 127 years in business, A&E has seen its share of innovative technologies in apparel production as the industry evolved. With its own legacy to maintain and reputation to uphold, A&E was discerning about the technology partner it would choose to develop anti-counterfeiting products.
"We were very careful about the technology that we wanted to associate our sewing thread with," Alt said. "One of the biggest things that we vetted in the beginning was safety and the effect on the end user or consumer as well as our people and our own associates in our operations."
Among its clientele, A&E counts major fashion brands that rely largely on a reputation for quality and unique approaches to apparel manufacturing. This customer base includes makers of luxury apparel and accessories, a segment extremely vulnerable to counterfeiting.
"We've had positive feedback especially on the luxury side of the leather-goods industry, where there are a lot of counterfeit products, specifically in the handbag market," Alt explained. "Thread is in a high proportion of the product. When you think about the input going into a sewn product, thread is one of the lower costs in proportion to the whole article."
With the apparel resale market growing in popularity, manufacturers of luxury goods that utilize this type of thread can increase the secondhand-marketplace value of their products. There is also potential for the use of Applied DNA Sciences' technology in another growing textile segment—fabrics manufactured from recycled materials.
"We have customers that want to tell their recycled story. We have a recycled line of sewing thread," Alt explained. "To round out that sustainability recycled story, we could tag it all the way down to the sewing thread to know that the sewing thread is indeed a recycled product."
To be certain that his company chose the best technology to enhance its thread, Alt explained that there were three factors that were most important during the decision-making process.
"We want to ensure that it's safe, globally available and that it can be used across our stable of brands so that it is not limited to one type or construction of sewing thread," he said. "[DNA] has versatility, which allows it into all the end markets and product categories that we sell into."