As of Tuesday, April 20, 2021
The Maison Kitsuné brand opened its first permanent West Coast store in Los Angeles' Silver Lake neighborhood in February. The Paris-headquartered brand is already laying claim to some Los Angeles style. Ben Klevay, a Los Angeles artist, put together a collection for the brand featuring hand-painted, sign lettering graphics featuring city names such as Los Angeles, and putting them on totes, T-shirts and sweatshirts. Retail price points for the Maison Kitsuné x Ben Klevay line range from $55 to $195.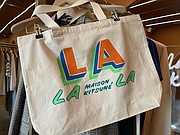 On April 15, Klevay worked at the Silver Lake Maison Kitsuné store, located at 3816 Sunset Blvd., to produce a store window featuring his lettering. He said that his style makes a point of difference in a graphics world where designers often use the very same computer fonts. "I needed to break away from that and do hands-on stuff," he said.
Maison Kitsuné x Ben Klevay also features styles for different cities such as Seoul, Hong Kong and Honolulu. In May, Klevay will open a pop-up shop at the Virgil Normal store, also based in Silver Lake.