As of Friday, April 28, 2023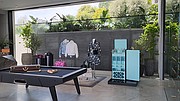 An expansive, airy private home in the tony Bel Air, Calif., neighborhood set the tone for Louis Vuitton's latest savoir-faire experience in Los Angeles on April 13. Named Crafting Dreams, the exhibition occupied three floors of the 18,250-square-foot space with rooms arranged to showcase pieces from the luxury brand's different categories including its heritage trunks, fine jewelry and high fashion worn by some of Hollywood's most notable faces.
Shimmering Louis Vuitton gowns, flirty cocktail dresses, accessories and footwear were arranged in the Red Carpet room, a space created in one of the home's luxurious open-air bedroom suites and adjoining walk-in closet. The garments have been worn by entertainers including Ana de Armas, Gemma Chan, Jennifer Connelly, Cynthia Erivo, Phoebe Dynevor and Sophie Turner. Additional fashion pieces in classic silhouettes such as the Vichy Check Preppy Blazer and Pants, Oversized Braided Button Dress, Anchor Button Lapel Coat, Nautical Knots Pajama Shirt and Chunky Stripes Pullover were featured in other areas of the home.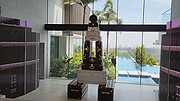 A large, white hallway housed the White Canvas: LV Trainer in Residence exhibition, which was inspired by former Men's Artistic Director Virgil Abloh. Louis Vuitton created the exhibition through a partnership with Sky Gellatly. The project relies on the all-white leather low-top LV Trainer as a blank canvas for limited editions of the shoe created in collaboration with artists Lady Pink, Lee Quiñones and the estate of the late Rammellzee.
Within the collection, Louis Vuitton also featured its Capucine Handbags and a handheld hard-sided Malle Maison Vendôme, which was created in the shape of Louis Vuitton's Paris store on Place Vendôme and incorporated into Nicolas Ghesquière's Fall/Winter 2023 show. Additional notable pieces included Louis Vuitton's Cabinet of Curiosities by Marc Newson, which debuted during the April 17–23 Milan Design Week.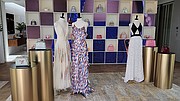 "Crafting Dreams represents the pinnacle of the maison's tradition of regional savoir-faire activations, celebrating bespoke items and singular offerings that highlight Louis Vuitton's legendary craftsmanship and heritage," the brand noted in a press release.
The Crafting Dreams presentation runs until May 3 and can be accessed by private guests on an appointment basis. Select clients can work with a designer who has been entrusted with creating Louis Vuitton bespoke trunks.