As of Tuesday, April 4, 2017
2017 is South Coast Plaza's 50th anniversary year. The luxe shopping destination is rolling out events worthy of a glittering anniversary. Last month it produced a runway show for designer Anne Fontaine at the Costa Mesa, Calif. shopping center.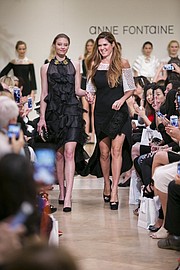 It also put together a gala dinner at The Getty Center in West Los Angeles. It featured a celebrity guest list with names such as Eva Chow, Alexandra Von Furstenberg, style influencer Garance Doré, Minnie Mortimer, Shiva Rose, Sally Perrin, Dita Von Teese, actress Camilla Belle, model Angela Lindvall, Asia Chow, Elaine Irwin, designers Lisa Eisner, George Esquivel, Kendall Conrad, Heidi Merrick, and stylist George Kotsiopoulos. The dinner was produced with C Magazine. Happy 50th South Coast Plaza!