As of Thursday, January 25, 2018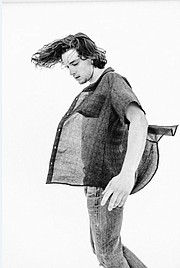 Eric Basangan was short of room in his house in Long Beach, Calif., when relatives showed up to attend his daughter's high-school graduation last year.
He improvised by buying a more than 50-year-old Franklin Trailer, turning it into a temporary living space for him and his wife, Sarah. Once the relatives left town, he remodeled the 1962 trailer again and reconfigured it into an office and a store on wheels for his recently introduced men's clothing line, Polymer.
Like the trailer, the line is inspired by a spirit of improvisation. Basangan said it was the only way to navigate the rapidly changing world of selling clothes, an industry he knows having worked for three years as a brand manager for the menswear label Comune.
"I've been watching retail like everyone else for the past five years. It's a confusing situation now. There are a lot of different avenues coming into play. It is kind of exciting. There is not one answer to what's going to happen. It's going to be a hybrid of what is going on," Basangan said.
Shortly after his daughter, Rachel, graduated from high school last year, he introduced Polymer directly to consumers through the website www.thepolymerprogram.com. This year, he branched out to wholesalers by showing at the Jan. 4–5 Agenda trade show at the Long Beach Convention Center.
Building brand awareness means combining grass-roots effort with slick marketing campaigns. Likewise, a clothing line can't serve one audience; it has to appeal to many groups. For Polymer, it meant appealing to skateboarders, artists working on a masterpiece or a dude putting together a look for a restaurant.
Putting together various elements was the inspiration for the brand's name. Polymer is a chemistry term for something that bonds different materials.
The line's style was inspired by high-end men's looks with a functional point of view. Significant Polymer looks include the "Essential Shirt." The long-sleeve and short-sleeve versions feature smaller collars, which Basangan said accentuates the shoulders more as well as the overall look of the garment. It is constructed of viscose fabric for a relaxed fit with a tailored style.
The label's pants are made out of wool and twill. There are marks placed in the inside of the pants, which serve as a guide for those with a do-it-yourself attitude toward hemming.
The self-funded 60-piece line is designed in Long Beach and manufactured in India. Other pieces include fleece and T-shirts with graphics designed by Long Beach artists. Polymer labels are made with Tyvek, a heavy paper fabric. In the future, Basangan will make the material to put together caps and tote bags.
Retail price points range from $28 for graphic tees to $60 for a long-sleeve woven shirt.
For more information, contact eric@thepolymerprogram.com.