As of Thursday, May 14, 2020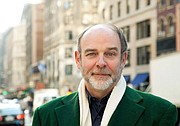 The COVID-19 crisis is forecasted to make major changes in the retail business, and, when the dust from the crisis settles, some of the entrepreneurs best positioned to start over and make a connection with consumers will be independent retailers, according to a handful of industry watchers.
The crisis has changed people's lives and their needs. They'll be looking for retailers who will reflect their needs, said Paco Underhill. As founder of the market-research company Envirosell Inc. and, as author of best-selling books explaining consumer psychology such as "Why We Buy" and "Call of the Mall," he has made a career of forecasting what consumers want from retailers.
Post crisis, apparel consumers are going to be looking for smaller, independent merchants that reflect local tastes, Underhill said. "There's going to be a lot more focus on what a store is," he said. "Instead of being all things to all people, it's going to be 'This is who I am. If you like me, come to me.'"
Ilse Metchek serves as president of the trade group California Fashion Association and has spent a career working in all areas of the apparel industry from design to running brands and working as an advocate for fashion businesses. She also sensed that customers would gravitate to smaller retailers.
"You're going to shop at a store that suits you and where you have a personal relationship. You're going to see new stores and little operations that are going to get bigger. Specialty stores, if they do it right, and if they work their customers with a personal angle, will survive," Metchek said.
With his reputation as a forward-thinking retailer who was developing lifestyle and experiential retail centers such as The Lab and The Camp in Costa Mesa, Calif., Shaheen Sadeghi was well ahead of the curve years before "lifestyle" and "experiential" became retail buzzwords.
Consumers have been developing a deeper interest in smaller-scale retail for a while, he said, and the crisis will be accelerating. Those consumers looking for luxe items or something unique will continue to seek out boutique retail. Those looking for commodity items will shop through digital commerce.
"There's a transition to the boutique and a lot of smaller hand crafters," Sadeghi said. "There's where the excitement of retail is. It will push innovation. They always come up with new stuff. The sad part is that the crisis will also wipe out the smaller creative operators who worked on a very limited budget."
But a pivot to the personal connection of smaller retail may be one of the few familiar aspects to a changed retail world that will greet shoppers once the COVID-19 crisis stay-at-home orders are lifted.
Underhill, Metchek and Sadeghi all forecasted that people would increasingly shop through digital commerce as social-distancing rules continue to be a part of daily life.
Sadeghi and his staff have been making changes at The Lab and The Camp that will take into account social distancing and hygiene concerns. Hand-sanitizer stations have been installed. Plexiglass shields have been posted around cash wraps. Retail and restaurant staff will probably have to wear masks and gloves when they work.
It's going to be a tough situation for a business that relied on people gathering, Sadeghi said. But eventually people will want to leave their residences.
"We are hard wired to make social connections," Sadeghi said. "We built a business out of making communities and bringing people together. Now, in the interim, we have to figure out how to keep people apart. It's ironic."
Sadeghi forecasted that the COVID-19 virus would be a threat for a while. "We just have to learn to coexist with it and take precautions," he said. "It is like we had to learn to travel and fly again after 9/11."
Every business has suffered from the economic freeze resulting from stay-at-home orders to slow the spread of the COVID-19 pandemic. On May 8, the unemployment rate increased to 14.7 percent of the American population, according to a report from the U.S. Bureau of Labor Statistics.