FIDM Adds Film and TV Design to Curriculum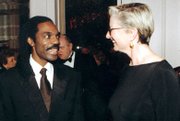 The Fashion Institute of Design & Merchandising (FIDM) recently announced that it has added a costume-design program geared toward the television and film industry and has named Mary Kay Stolz as creative director of the one-year program.
Film & T.V. Costume Design is an advanced-study program that allows design students to work closely with the American Film Institute (AFI) Center for Advanced Film & Television Studies by pairing FIDM students with AFI Fellows who are working on projects.
"For over 25 years FIDM has successfully taught theater costume design, and this advanced-study program is a natural extension of our core curriculum," said FIDM president Toni Hohberg.
Hohberg said the program will also include an in-depth study of film history, which will take place at Los Angeles Center Studios, the new full-service studio campus in downtown Los Angeles.
Stolz, a member of the Costume Designers Guild, has 14 years under her belt as a costume designer for television and film and holds a Bachelor of Fine Arts degree from Washington University. In addition to teaching college-level courses, which she has done for the past 15 years, Stolz also runs a fashion-design business.
"One of the most stimulating parts of our advanced-study program will be the opportunity for the participants to work on student and independent film in conjunction with AFI film students," Stolz said. "The activity will give important hands-on experience and is complemented by guest speakers from the motion-picture industry and field trips to the unique resources of Hollywood."
For more information on the program, call (800) 711-7175. —Claudia Figueroa