RETAIL
By Andrew Asch | November 19, 2015
In California, Macy's will be unveiling huge remodels of some of its stores.
The first major shopping event for the 2015 holiday retail season is over and analysts say business was great for e-commerce, however it declined for bricks-and-mortar retail.
On Cyber Monday, the day American shoppers are expected to formally order Winter Holiday presents online, forecasts predict a dip in sales.
Prominent Los Angeles–headquartered boutique Kitson was sued by Vivienne Westwood on Oct. 2.
For more than five years, the RVCA brand has handled its urban side with a retail store on Fairfax Avenue close to Los Angeles' Mid-City neighborhood. The Costa Mesa, Calif.–based company recently opened a boutique for its beach culture side in Santa Monica, Calif. On Nov. 24, the company held a grand-opening party for its boutique at 2625 Main St. It is located a few blocks away from the Pacific Ocean, said Brian Cassaro, RVCA's vice president of marketing.
Forever 21 said it will be closing its 120,000-square-foot store in San Luis Obispo, Calif., in January and laying off scores of employees.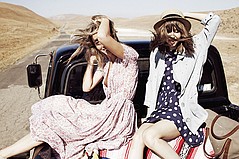 Christy Dawn's "Audrey" dress recently hit the racks at Free People, a division of Urban Outfitters Inc. But the Made–in–Los Angeles label also is looking to build a higher profile for its vintage-inspired styles by opening a boutique in a burgeoning retail neighborhood.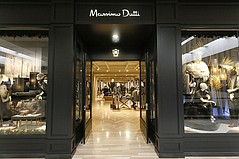 Zara stores seem to be in every major U.S. city, but its more-upscale sister store, Massimo Dutti, had been a stranger to this country.
Classic styles with a touch of fashion have been the mainstay of J.McLaughlin, a small specialty-store chain founded in New York by two brothers in 1977.
Solid growth is forecast for the upcoming holiday season, but don't count on seasonal cheer coming from retail economists and analysts.
On. Nov. 11, Macy's Inc. reported a 3.6 percent decline in same-store sales for its third quarter. As a result the giant retailer revised its sales and profit forecast for its Winter Holiday sales in the fourth quarter, which sent retail stocks reeling. Sales for the retail giant's third quarter were $5.874 billion.
American Apparel filed for Chapter 11 bankruptcy protection in early October, but it still must report its revenues and earnings for the third quarter, ending Sept. 30. In a preliminary filing, the troubled Los Angeles clothing company said its third-quarter sales plummeted 19 percent to $126 million, compared with nearly $156 million in the same period last year.
Two years ago, American Apparel founder Dov Charney snapped up a small high-end specialty-store chain called Oak. With Charney ousted last year as the company's chief executive and American Apparel now in bankruptcy, the struggling Los Angeles clothing company has decided to shutter its Oak stores to save money.
Business for most retailers fell short of Wall Street forecasts, according to analysts such as Ken Perkins of Retail Metrics, a Boston-area market-research firm.
Oaktree Capital Management, the Los Angeles–based investment firm, is ramping up its effort to buy Quiksilver Inc. out of bankruptcy.
Previous Next