TECHNOLOGY
By Paula Levy, Contributing Writer | January 17, 2019
Mobilizing the shop floor is one of manufacturing's top initiatives as companies look to gain efficiencies and speed to market throughout the supply chain as well as improve the quality of the workforce in order to meet consumer demands.
During the National Retail Federation's NRF 2019: Retail's Big Show,held at the Javits Center in Manhattan Jan. 13–15, San Francisco's CRM-focused software provider Salesforce took the opportunity to unveil new offerings.
Coats, the British industrial-thread manufacturer who has been on an acquisition binge, recently acquired for $12 million ThreadSol, a cloud-based digital-applications provider, which becomes a part of Coats Global Services.
Bringing greater personalization to the apparel-manufacturing industry, French technology company Lectra is launching its Fashion on Demand digital solution.
November 1, 2018
|
By Paula Levy, Contributing Writer
Understanding and connecting with customers directly is as important to brands and manufacturers as it is to retailers today. Where retailers have traditionally leveraged customer data and intelligence to drive email campaigns and experiences, brands and manufacturers have not possessed the customer data to understand who their customers really are—until now.
Icing down sore muscles is part of a typical pain-management regimen.
September 20, 2018
|
By Paula Levy, Contributing Writer
The IHL Group, a global research and analysis company, has reported a loss of $8.4 billion annually for fashion and retail due to returns for wrong sizing and fit. This makes 3-D technology for fashion and retail one of the fastest-growing technologies, with proven value for design and product development as well as consumer engagement.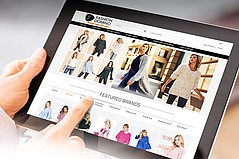 The importance of e-commerce continues to grow as manufacturers seek tools to fortify their relationships with buyers.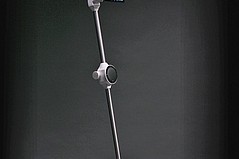 When London Fashion Week starts this year, there will be something new on the runway: robots showing some of a Los Angeles designer's collection.
U.S. online retailers made more than $100 billion in sales during the first quarter of this year, according to Adobe Analytics' Digital Dollar Report.
Technology company Donde Search recently partnered with Forever 21 to introduce a visual search and navigation system, which the retailer said has boosted its sales.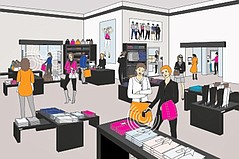 August 16, 2018
|
By Paula Levy, Contributing Writer
RFID may not be new, but its increasing affordability is proving to be a game-changer for retailers large and small.
Not only has Levi Strauss & Co. made a commitment to invest in energy-saving operations at its own properties, but it has also announced that it is approaching its supply-chain partners to commit to more sustainable practices.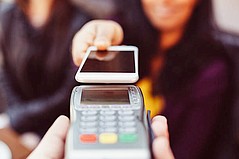 July 26, 2018
|
By Paula Levy, Contributing Writer
"Frictionless shopping" is a broad topic that can encompass the entire shopping experience, from finding items and receiving personalized promos to checking out using mobile payments and loyalty points.
Poshmark, the social marketplace where people in the United States can buy and sell clothing, announced the launch of its new Posh Markets feature, which has added on refined shopping communities within the platform.
Previous Next