FASHION
By Deborah Belgum | October 11, 2018
For the past few years, <b>L.A. Fashion Week</b> has been bopping around the city, setting up runways at different locations that change from season to season.
NEWS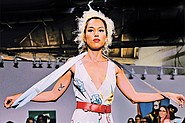 COUTUREMASH
Artistic images on prints and trendy silhouettes were part of the fashion show held at the Mash Gallery in downtown Los Angeles.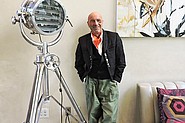 LFW CO-FOUNDER EYES LA
After helping to launch London Fashion Week in the 1980s and nurturing the careers of several well-known designers, British fashion-industry icon Mikel Rosen is setting his sights on Los Angeles for his next fashion projects, which could include his own version of a Los Angeles–style fashion week.
FASHION
Inside a photography studio just blocks away from the historic Sears building in the Los Angeles neighborhood of Boyle Heights, students from FCI Fashion School in Los Angeles displayed their creations after months of study.