TRENDS
By N. Jayne Seward | October 1, 2015
From '70s glam to loungewear chic, this Spring will be a decidedly feminine affair.
NEWS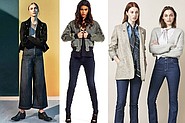 FASHION
Denim's ultra-chic new look will be getting major street cred this Fall.
MANUFACTURING
Paul Frank Sunich, the man who invented Julius the Monkey and founded Paul Frank Industries—only to be forced out from his namesake venture—is back with the label.
RETAIL
The fashion students at the Otis College of Art and Design had a special assignment last year: Put together a collection of plus-size work outfits that will be sold at Lane Bryant stores.