Elisabetta Rogiani Queen of Hearts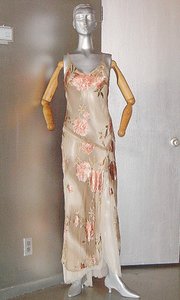 Elisabetta Rogiani is bringing a little bit of Italy into her design studio. The Los Angeles-based designer, who made a name for herself on the West Coast by creating an eponymous collection of edgy, contemporary styles, recently debuted a high-end missy collection with the help of a team of Italian designers.
The mainly dress-driven Queen of Hearts collection is made with two types of silk combinations. Some styles are made with 100 percent silk with burnout charmeuse prints and chiffon lining, and others use 100 percent silk with burnout velvet. The collection also features silk camisole and layered short-sleeve blouses, as well as layered biased skirts. Wholesale price points for the collection range from $42 for a silk top to $115 for a silk dress.
The Elisabetta Rogiani collection, which uses Tactel, wool, stretch leather and faux fur, features similar styles, but the Queen of Hearts collection is toned down quite a bit, said Rogiani.
"It's for the modern woman who wants a flattering figure, but it's also very sensual because it's very soft and it drapes," she said.
The 10-piece collection, which is being produced in China and will begin deliveries on 11/15, debuted at Los Angeles Fashion Week earlier this month.
The Queen of Hearts collection will be sold at Fine 'n' Funky in Tahoe City, Calif., as well as in the Elisabetta Rogiani boutique on Beverly Boulevard in Los Angeles.
Rogiani said the collection will be geared toward better boutiques and better department stores. For more information, call Barbara James and Co. in suite 607 at the New Mart, (213) 624- 9021. —Claudia Figueroa