Zandra Rhodes Talks Osbourne Style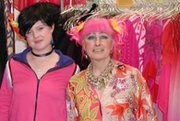 Zandra Rhodes dazzled fashion lovers in the 1970s with her bright and elegant (yet flashy and outrageous) authentic hippie-chic designs. Known for her punk influences, the pink-haired designer is also a favorite of Kelly Osbourne from MTV's "The Osbournes," who recently looked through Rhodes' closet for an outfit to wear to MTV's Video Music Awards. Here's what she told California Apparel News manufacturing editor Claudia Figueroa about meeting MTV's newest sweetheart.
What kind of fashion are you selecting for Ozzy's daughter, Kelly Osbourne?
My relationship with Kelly is very free. She has been an admirer of my work and with her free spirit she has picked items from my collection that can be worn with things she has already—such as a clever bold-printed butterfly top to go with flared black low-cut pants.
Your collections are mostly known for their handcrafted ethereal look made with Asian and Central American prints on chiffon. What is the fabrication in your collection like these days?
Many of my designs are based around the printed textile pattern—sort of like cutting out around one existing pattern on the fabric. So the pattern makes one dramatic statement on the body—but the body can be seen through the sheer fabric.
What type of fashion do you envision Kelly wearing on the show?
I feel very much that Kelly is an individual and whatever she wears she has to feel relaxed and OK in her own self, so these clothes must accent and add to her personality— not overwhelm her but be a fabulous mood that she has been able to step into and "flower." She's ripe for a fashion image and already has her own look that is great potential for working on. I know she can become a leader and a "one and only."