Bisou Bisou Inks Exclusive Deal With JCPenney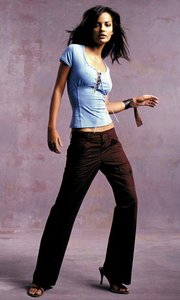 Bisou Bisou is going after a bigger share of the retail market. The Los Angeles–based company announced that it has entered an exclusive licensing agreement with JCPenney Company Inc., and beginning next year the Plano, Texas–based moderate department store chain will roll out the red carpet for the contemporary sportswear label.
Both companies declined to discuss details about the agreement; however, both sides say the deal allows Bisou Bisou to license its product outside the U.S.
Liz Sweney, JCPenney's executive vice president and general merchandise manager for women's apparel and accessories, said, "All I can say right now is that we're committed to Bisou Bisou and they're committed to JCPenney. Our intent is to see how we can put the product into more stores and expand the label in different categories."
Beginning in February, Bisou Bisou's contemporary sportswear will be sold in 500 metropolitan-area JCPenney department stores and will be merchandised in a separate area dedicated to the contemporary label, said Sweney, who added, "The company will continue to feature the same contemporary styles that make the collection so unique."
Bisou Bisou's collection for JCPenney will be geared toward the same 25- to 35-year-old demographic but, at prices ranging from $20 to $70, will retail considerably lower than its signature collection, said Sweney. A spokesperson at JCPenney said the retailer plans to source the collection at offshore production facilities.
In the meantime, Bisou Bisou's existing accounts with department store retailers Bloomingdale's, Nordstrom and Macy's will be phased out over the next two months, and merchandise will be marked down until it is completely liquidated, said chief executive officer Marc Bohbot, who founded the company with wife Michele in 1989.
The company's current plans include the closure of its remaining freestanding stores, in Los Angeles, New York and Florida. Marc Bohbot said he has received some interest from brand owners who are looking for prime real estate retail chains that they can fill with their own inventory.
The Bohbots said their decision to license out the brand name stems from the company's previous efforts to reach a wider demographic.
"There's a new kind of competitiveness between contemporary sportswear makers and retailers who have put together contemporary product at a moderate price," explained Marc Bohbot. "Our solution was to go with JCPenney's channels of distribution, where we can still create a sophisticated collection at a price point that matches the needs of our new consumers— who are very price point–oriented."
This year the company is on track to earn $80 million in sales, including its licensed products, a 33 percent increase over the year prior. Both sides declined to give first-year sales projections; however, industry sources say it seems like a profitable match, according to Marc Bohbot.
This is not the first time a moderate retailer has looked for new business in other distribution channels. Several local industry sources compared the Bisou/JCPenney move to the deal struck between Mossimo and Target Corp. in 2000. That proved to be the first of several partnerships the Minneapolis-based discounter formed with contemporary and designer labels including Steven Sprouse and Todd Oldham.
Cherokee's chief executive officer, Robert Margolis, who helped broker the Target/Mossimo deal, said: "The Bisou Bisou licensing deal is just another validation of the trend where retailers are embracing brands as their own."
Sean Knight, Marc Bohbot's former partner at B. Clothing, said the likelihood of Bisou Bisou losing its core customer is high, but the payoff will outweigh the company's loss.
"Will Bisou Bisou's customers go to JCPenney to buy the line? Probably not," explained Knight. "We saw that with Mossimo's customers when his line went to Target. But the idea is to mass market more volume in JCPenney's arena and develop a whole new market. It's a financial decision and I think it was a good one."
The decision to shift to a new distribution channel comes after what Marc Bohbot describes as "an amazing year with all of our major department store accounts." However, the company's retail business has not fared as well in the past year. Earlier this year, Bisou Bisou sought Chapter 11 bankruptcy protection for its retail business and said it would close eight of its 19 stores. This is not the company's first attempt to expand its business. Bisou Bisou's initial foray into the juniors business ended in 1999, when it shuttered B. Clothing following management disagreements with B. Clothing's founder. In October, Bisou Bisou launched a new juniors line, True Meaning, although Bohbot declined to comment on the future of that label.
The company's line of yoga apparel, L'OM, which launched with favorable media and buyer attention in 1998, shuttered six months ago.
Marc Bohbot said he would continue his role as company chief executive officer of the Bisou Bisou brand, while Michele Bohbot will continue to design Bisou Bisou's collection from the company's downtown Los Angeles headquarters.
"I am thrilled to join with JCPenney to design for the modern American woman on a greater scale," said Michele Bohbot. "With JCPenney we will make our newest fashions available to more women at an affordable price, so a woman doesn't have to spend a million to look like a million."
The Bohbots said both companies are combining their efforts to stage an official debut party for the relaunch of Bisou Bisou next year in New York.