Disney Taps PJ Salvage for Vintage-Inspired Sleepwear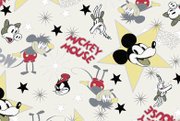 Irvine, Calif.–based Loomworks Apparel, which produces sleepwear and loungewear under the PJ Salvage label, announced that it has signed a licensing agreement with Walt Disney Company to produce a vintage-inspired line of the company's most-adored characters.
Walt Disney Signature by PJ Salvage will feature five original designs of Disney characters Mickey Mouse, Minnie Mouse, Donald Duck, Pluto and Goofy. Right now the collection is geared to adults. Both companies are currently in negotiations for other age segments.
The licensing agreement calls for the company to produce a new collection each season using other animated characters from Disney's vaults.
"We thought it was a nice fit with our product and the direction we want to go in, especially with retro and vintage items being so important now," said Marilyn Hikida, Walt Disney's director of women's and girls' apparel for the consumer products division.
In recent months, Loomworks Apparel has expanded its production through such premier licensing alliances. Last year the company signed an agreement with Rampage to produce young contemporary sleepand loungewear, and this year the company began producing Anne Klein sleepwear.
PJ Salvage produces pajama sets, coordinating tank tops and printed bottoms, robes and fuzzy slippers for men and women. PJ Intimates is the latest addition to the company's catalog.
Flannel pajama tops and bottoms and cotton tanks, T-shirts and boxers make up the full collection, which comes in adult sizes S, M, L and XL, as well as tween and infant sizes. Holiday and early Spring deliveries begin Dec. 30 and Jan. 30, respectively; price points range from $8 to $28.
The Disney sleepwear collection, which officially debuted at last August's MAGIC International in Las Vegas, is sold at 2,500 specialty stores and better department stores, including Neiman Marcus, Bloomingdale's, Nordstrom and Macy's West.
The company declined to give sales projections, but said it increased revenues by 40 percent last year and is expecting more growth for 2003. —Claudia Figueroa