Funky Obscurity a Boon for Retailers in Venice, Calif.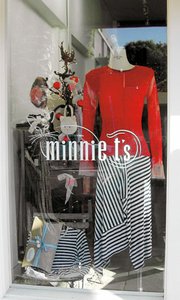 For many regulars, Abbot Kinney Boulevard in Venice, Calif., is a little SoHo in So Cal. The city may be known for its famed ocean boardwalk and Muscle Beach showcase of buff bodies, but Abbot Kinney, named for the city's founder, is emerging as a fashion-friendly enclave with the opening of new boutiques.
With its Westside location and artsy flair, Venice has drawn celebrities and the young nouveaux riche to its midst. And the allure of Abbot Kinney's eclectic charms, from antiques stores and restaurants to casting agencies, keep shoppers coming back.
"Girls after their auditions go get coffee and then make their way into our stores," said Stephie Doucette, assistant buyer at the Principessa boutique.
Even with less than auspicious beginnings, Principessa has stayed busy under the guidance of owner Darla Bonnaire and has managed also to attract celebs Priscilla Presley and Julia Roberts. The contemporary boutique opened in September 2001 and promptly changed its merchandising mix from a funky shoe store to a clothing boutique with a higher price point based on customer requests.
"We've found rather quickly that there's a sophisticated customer here who's knowledgeable about clothes," said Bonnaire, also known for her juniors boutique, Vamp, on Main Street in Santa Monica.
Now, Principessa, outfitted with a shabby chic theme, carries items from Diane Von Furstenberg, Trina Turk, Nanette Lepore, Theory and Sheri Bodell.
Wrap dresses in bright patterns by Diane Von Furstenberg are checking as shoppers seek festive attire during the holidays, Doucette said. Vintage-looking dresses by Nanette Lepore, such as a black lace dress with a nude underlay, also have strong sellthroughs.
Theory pants are another key seller, in stretch and corduroy patterns.
"They're a must-have—the cut is so on that anybody can wear them," Doucette said.
Another newcomer to the street is four-month-old Minnie T's, a contemporary boutique carrying Juicy Couture, Katayone Adeli, Burning Torch, Item Cashmere and LoyandFord.
For owner Barbara Phillips, a former boutique buyer for 22 years, the street's former obscurity in the fashion world appealed to her business sense.
"I had to find a street that I could secure lines with, because places like Montana [Avenue in Santa Monica] and Robertson [Boulevard in Los Angeles] are done—they're inundated and I can get exclusives for this area," Phillips said.
Her best-selling line is Juicy Couture in the velour athletic sets and low-rise stretch jeans.
"Everything's booking with them—there's a lot of label recognition with them," she said.
Phillips said she has had to order Los Angeles–based LoyandFord (an exclusive she has in the community) every week, as customers gravitate to the line's unfinished looks—notably the wide-leg gabardine pants and long corduroy skirts in beige, black and gray.
"Customers love the pants because they fit well—tight in the butt with a flared leg—and the skirts are just cool with no zippers, no seams, just an unfinished bottom," she said.
An intimate-looking red home is the 600-square-foot space for Moulin Rouge, a lingerie store open since February and decorated to rouse the senses of shoppers. Red carpet, red roses and boas galore provide the backdrop to the chemises, camisoles, bras, panties, bathrobes, pajamas and slippers from Cosabella, Mary Green, Italian line Ritratti, Ravage and Charlotte of France.
Belgrade native and owner Vesna Roberston said Cosabella is a top seller at the store.
"I can't keep things in stock, from camisoles to bras," she said. Cosabella thongs and Arianne thongs, low-rise boy shorts in lace and mesh, and silk G-strings are also checking.
At the eclectic Ananda stores, which carry a blend of clothing, home furnishings and accessories from exotic lands, shoppers are bundling up with corduroy jackets lined with fur by Kali-Girl and rich-colored suede jackets by Los Angeles– based line San Souci.
Co-owner Katherine Kemp, who opened the Ananda clothing store last year and expanded with more furnishings, books, music and more clothing at Ananda Shakti in April, said Venice shoppers, not surprisingly, have an activist bent and are snapping up T-shirts by Venice-based Root Troop. The snug little shirts in green and black promote "World Peace" and "Go Electric" and sell for $24. Another socially conscious line resonating with customers is Prana, a Ventura, Calif.–based label of yoga/mountaineering clothing ranging from oversized jackets and soft corduroy shirts to yoga pants and T-shirts.
Accessories are also a booming category, said Kemp, who sells textured scarves, hats and fuzzy socks.
Kemp remains bullish about the community's eclectic feel, which keeps shoppers coming back.
"We don't have big-box retailers here and we don't have Starbucks—that's important," she said. "The community is vibrant and tolerates newness and nurtures it."