2002 in Review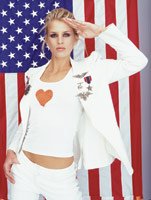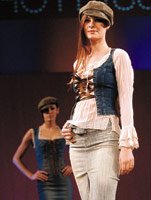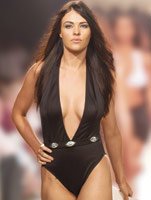 A note of caution hung over the apparel and textile industries in 2002 as the economy showed signs—but no real evidence—of recovery. Consumers continued to spend, more in the first half of the year than the last, primarily at discounters and specialty stores. Manufacturers and sales reps reported optimistic but very focused buyer turnout at the trade shows. Early in the year, retailers restocked shelves that had gone empty the season before. Then, with newly lean inventories, buyers considered purchases carefully, often opting to place last-minute orders for new merchandise.
Locally, the industry spent the year shaping and then adapting to legislation such as Assembly Bill 633 and new workers' compensation legislation.
On the fashion front, designers also stayed cautious and there were few breakout trends. Military influence continued to turn up in collections, as did bohemian and ethnic details.
Still, Los Angeles hosted two of its largest fashion weeks to date. And several Los Angeles designers headed east in search of new exposure during New York Fashion Week.
JANUARY
Fashion
American Dream. Designers continue to offer American- themed fashions and to donate a portion of proceeds from the sales of promotional items to 9/11 funds.Summer ease. Summer items are easy, lightweight and sheer. Essential pieces are updated with cheerful colors and lingerie-inspired details.
Retail
Discounters lead sales. December sales rallied at month's end for discount stores, while sales dropped at department stores and chains, including Federated Department Stores, Limited and The Gap.Holiday sales slump. Retailers offered drastic markdowns and in-store promotions to try to spur consumer spending. Analysts predict flat sales for the holiday season.E-spending surges. Online spending surged during the holiday season as 51.7 million visitors logged on to e-commerce sites the first week of December, according to Jupiter Media Matrix. Yahoo.com's shopping portal saw an 86 percent increase in visitors for the period between Thanksgiving and the day after Christmas.Kmart's woes. Troy, Mich.–based retail giant Kmart files for Chapter 11 bankruptcy protection, citing slow holiday sales and problems with key product shipments.Problems at Bisou Bisou. Los Angeles–based manufacturer and retailer Bisou Bisou files for Chapter 11 bankruptcy protection for the retail portion of its business, citing a poor retail environment and a need to reorganize that segment of the company's business. The company also announces it will be closing six of its 15 stores, including boutiques in Los Angeles; Glendale, Calif.; Las Vegas; Plano, Texas; and Wellington, Fla.
Markets
New juniors market. California Market Center, which houses the California Mart, announces the addition of a second juniors market to its trade show calendar. The Fall '02 Junior & Contemporary Market is slated to run concurrent with Los Angeles Fashion Week in April.
Trade shows
Off-Price's new home. The Off-Price Specialist Show announces plans to move to the Sands Expo & Convention Center, downstairs from WWDMAGIC, in February, in a four-year deal with the Sands for the space.Hopeful signs at market. Signs of recovery mark the Summer '02 Market Week in Los Angeles as reps report confident buyers and strong order writing.Gift show debut. The California Market Center debuts a gift show preview the week following Los Angeles Market Week, with the opening of five showrooms on the 12th and 13th floors.D&A Tokyo-bound. New York–based contemporary trade show Designers & Agents announces plans to take a group of designers to Tokyo in March
Manufacturing
Made by the Bay closes. San Francisco–based monitoring service Made by the Bay shutters after four years due to dwindling funds allocated to the program.
Real estate
Green light for Santee Court. MJW Investments, owners of the Gerry Building, wins entitlements from the City of Los Angeles for its Santee Court project, a $120 million, 780,000- square-foot mixed-use development in Los Angeles' Fashion District.Harkham buys Hertz buildings. Hertz Investment Group, owner of the California Mart, sells two buildings to Uri Harkham, property owner and owner of contemporary and junior labels Hype and Jonathan Martin. The two office and warehouse buildings are located on Los Angeles Street in the Fashion District and will be managed by Harkham's A&H Management.
Licensing
Hot Kiss heads overseas. The Los Angeles–based juniors label announces a deal with Cherokee Group to pursue overseas licensing agreements for Hot Kiss sportswear, denim and dresses.
FEBRUARY
Fashion
Laid-back. Juniors and young men's designers go for laid-back California Casual styles for the latest run of the Action Sports Retailer Trade Expo in Long Beach. Styles range from sports-inspired to Beach Boho.Pop culture. The offerings are eclectic at MAGIC International as designers present innovative, youth-infused styles for a new generation.Earth angel. Ethnic touches and bold accessories add a soulful spin to sportswear.MAGIC's mix. Prairie looks vie with bohemian and mod styles on the runway at MAGIC International.
Legislation
Workers' comp increases passed. The California legislature passes a law increasing workers' compensation benefits, a reform protested by manufacturers and retailers who argued the attendant costs would be exorbitant. Assembly Bill 749 requires approval by the governor before the law can be implemented.
Trade shows
WCE heads to Las Vegas. Los Angeles–based upscale menswear show West Coast Collective announces plans to present in Las Vegas during the run of MAGIC International. This would be the 4-year-old show's first foray outside California.Fill-in buying at ASR. Reps at the Action Sports Retailer Trade Expo in Long Beach report brisk buying to fill low inventories.Good mood at WCC. A positive attitude marks the run of the West Coast Collective in Los Angeles as reps report the end of the gloomy outlook that marked the previous season.Busy MAGIC. Buying is brisk at the newly reorganized MAGIC International, where the Streetwear, Boardsports and Edge sections are now under one roof in a space adjacent to the rest of the men's sections at the Las Vegas Convention Center. WWDMAGIC remains in the Sands Expo & Convention Center, with new downstairs neighbor the Off- Price Specialist Show. Several new shows, including the West Coast Collective, Pool and the ASAP Global Sourcing Show, get off to a strong start.
Marts
New managers at CalMart. The Market Center Management Company (MCMC) takes over management of the California Mart and announces the building name will be changed to the California Market Center. The newly formed MCMC, headed by Bill Winsor and Cindy Morris, also manages the Dallas Market Center.
Retail
Discounters remain strong. Discounters continue their hot streak from January, with retailers Target and Wal-Mart leading the retail sales increases. Other retail giants do not fare as well, with Federated Department Stores and May Department Stores reporting losses. Bebe takes the dubious lead in specialty-store losses, with a 17.1 percent drop in same-store sales.Citadel's expansion plans. New owners of Los Angeles discount mall Citadel Factory Outlets, Craig Realty Group, announce plans to expand the mall to three times its size and at least double the number of stores. The Citadel houses 48 stores in 145,000 square feet of space.
Manufacturing
Esprit shutters in U.S. San Francisco–based juniors apparel line Esprit shutters its U.S. operations in San Francisco and announces plans to sell its trademark rights in the U.S. and theCaribbean to Hong Kong partner Esprit Holdings Ltd. for $150 million.
MARCH
Fashion
Panty raid. Hip new lingerie lines unveiled by several junior contemporary labels at the recent MAGIC International prove to be one of the season's strongest trend directions.
Retail
Forever 21 victorious. A federal court rejects an action against Los Angeles retailer Forever 21 in a ruling that dismisses the notion that a retailer is the ultimate employer in the apparel supply chain.The Grove opens. New Los Angeles mall the Grove opens its doors with a series of events, including a fashion show at anchor Nordstrom and a benefit dinner for the National Institute of Transplantation.Sales stay with discounters. February retail sales continue to be a discounters' game as Wal-Mart and Target report increases, while giants Federated Department Stores and May Department Stores report decreased sales. However, JCPenney reports a 12.5 percent hike in same-store sales and Kohl's reports a 14.4 percent increase in same-store sales.
Trade shows
ASR vs. Surf Expo. Surf Expo and Action Sports Retailer Trade Expo host competing Back-to-School shows in Southern California. Surf Expo BTS West bows in Anaheim with slow traffic but good turnout from surf brands Ocean Pacific, Quiksilver and Billabong. ASR Back2Skool launches in Huntington Beach, with good traffic for last-minute Summer and Back-to-School buying.Exceeding expectations. Reps report better-thanexpected traffic at the fourth run of Urban Suburban, a young men's and men's streetwear show, at the California Market Center.
Manufacturing
FBI lands grants. Los Angeles–based non-profit organization Fashion Business Incubator receives a trio of grants from the City of Los Angeles and the Los Angeles Department of Water and Power totaling nearly $300,000 to help fund an expansion of the group's 800-square-foot headquarters in the New Mart. The new space, planned at 4,800 square feet, is to include a showroom, a computer lab with 25 computers, a photo studio and a seminar room.New label for Levi's. San Francisco–based denim giant Levi Strauss & Co. announces plans to investigate developing a new label for distribution through discount chains.Wins workers file suit. The State of California files suit against San Francisco–based manufacturer Wins of California on behalf of 240 workers who say they are owed more than three months in back wages by Wins.
APRIL
Fashion
Dramatic Fall. Designers at Los Angeles Fashion Week roll out Fall with dramatic details, unusual silhouettes and a somber palette.Fall '02 Fashion Week. Los Angeles Fashion Week opens with more than 20 events around town, including the debut of Tyler, Richard Tyler's new contemporary label.
Trade shows
D&A bows in Tokyo. Organizers report strong traffic from about 700 Japanese buyers at the Tokyo edition of Designer & Agents, which features about 19 booths and 41 collections.Crossover buying. Crossover traffic marks the second small gift show for the California Market Center. Organizers anticipate a strong turnout for the fullshow launch in July.Busy market. Several shows keep traffic brisk at Los Angeles Market Week. In addition to the market at the California Market Center and the New Mart, Designers & Agents, ENK's Pacific Champions, Pacific Coast Travelers, the Los Angeles Shoe Show, the Gift Show and Sistema Moda Italia, a group of Italian manufactures, all participate in the event.Juniors debut. The first California Market Center Fall juniors market has a favorable debut with strong traffic and healthy business reported. Organizers say next year's event will be larger.
Retail
Stronger sales. Sales rose in March at both department stores and specialty stores. Saks Inc., Dillard's Inc., J.C. Penney Inc. and Ann Taylor Inc. report increases. Discounters Wal-Mart and Target continued to show strong sales.
Manufacturing
Social venture. Co-creator of Ben & Jerry's ice cream Ben Cohen turns out for the opening of SweatX, a new T-shirt manufacturer backed with funds from Cohen's Hot Fudge Social Venture Fund.Levi's cutbacks. San Francisco–based Levi Strauss & Co. announces plans to shutter six U.S. manufacturing facilities, laying off approximately 3,300 workers.New regs for AB633. The California Department of Labor releases new regulations for the implementation of Assembly Bill 633, which was passed in 1999 but is not yet in effect.Wins back in court. The California court-appointed trustee for the Wins of California case files a complaint against the U.S. Department of Labor over monies collected by the department and held in a lock box until the case is settled.Aris and XOXO together again.New York–based Aris Industries reacquires the full licensing rights for XOXO following the Los Angeles–based juniors label's split with Grupo Xtra, which manufactured the company's clothing and managed day-to-day operations.
MAY
Fashion
California vintage. Local designers including Eduardo Lucero, Richard Tyler, Estevan Ramos and Jared Gold turn thrift-store clothing into one-of-a-kind fashions for a runway show to benefit Alegria, a residential community in Los Angeles sponsored by the Salvation Army.Latin masters. Los Angeles designers Estevan Ramos and David Cardona and New York designer David Rodriguez are honored during a runway show at the Museum of Latin American Art in Long Beach, Calif.Guess Who's 21? Los Angeles manufacturer Guess? Inc. celebrates its 20th anniversary a year late with a runway show and celebrity-studded party.
Manufacturing
Nygard's new D.C. Canadian manufacturer Nygard announces plans to open a new 280,000-square-foot distribution center in Gardena, Calif., in the summer.
Trade shows
Good mood. The mood is upbeat at the Los Angeles International Textile Show, with an increase in attendance and a strong turnout from manufacturers and retailers including Guess, Arden B., Bebe, Laundry by Shelli Segal, Karen Kane, Henry Duarte, Casadei and Juicy Couture.
JUNE
Fashion
Fashion with flavor. Los Angeles designers Lynn Lugo and Corey Lynn Calter are featured among the designers in the Gen Art/Pucker Fashion Design Tour, sponsored by the nonprofit arts organization Gen Art and liquor company Pucker.Knick of time. Los Angeles designers roll out the must-have item for Fall: knickers.
Retail Bebe's woes. Brisbane, Calif.–based Bebe Stores announces the sudden resignation of its president and chief operating officer, John Parros, the same week the retailer is hit with a lawsuit filed by six Los Angeles garment workers. The suit alleges minimum wage violations and abusive conditions at a Bebe contractor in El Monte, Calif.Cool sales. Most retailers saw sales slump in May as cool weather stunted sales of summer merchandise and the economy continued to be uncertain. However, some retailers, including Ann Taylor Stores, Wal-Mart and Kohl's, post gains.
Trade shows
Focused buying. Reps report focused buyers at the Fall II/Holiday market in Los Angeles.
Freight Eye on the ports. The National Retail Federation urges President Bush to act to prevent a strike at California's ports. The International Longshore and Warehouse Union's contract is set to expire on July 1 and a new contract has not yet been reached.
Manufacturing
Hot Kiss heads to Canada. Los Angeles–based juniors line Hot Kiss signs a licensing agreement with Montreal-based Fame Jeans to produce and distribute Hot Kiss in Canada.Upscale rock 'n' roll. Los Angeles–based young men's and young contemporary labels Lip Service and Serious both launch upscale men's and women's contemporary labels aimed at the alternative customer.Owens honored. Los Angeles designer Rick Owens receives the Perry Ellis Award for Emerging Talent from the Council of Fashion Designers of America, a New York–based association of U.S. designers.SIMA taps Baker. Ocean Pacific chief executive officer Dick Baker is named president of the Surf Industry Manufacturers Association (SIMA).Small-business initiative. The U.S. Department of Labor proposes an initiative that would encourage small-business owners to take a more proactive role in the workplace while protecting workers under federal labor laws.Wins setback. The U.S. Bankruptcy Court rules in favor of the Department of Labor having control of the monies in a lock box that was established to reimburse 240 former Wins of California employees who went unpaid for three months before the San Francisco plant was shut down by authorities last year.Hot Kiss for girls. Los Angeles–based juniors line Hot Kiss announces an agreement with Los Angeles– based L and L Manufacturing for a licensed line of girls' apparel in sizes 4–16 and girls' plus sizes.Labor summit. The California Labor Commissioner appears at an Apparel Summit organized by the California Fashion Association. The panelists discuss labor-law enforcement and other pressing labor issues in California.Africa in L.A. The California Fashion Association and the Department of Commerce host a meeting with a group of African manufacturers to discuss opportunities in the California market.
JULY
Fashion
Miami heat. The swimwear on display at the Miami Swim Show has a spicy Latin flavor that includes lively colors, tropical florals and details such as ruffles, fringe and lace. Other trends to come out of the show: African safari styles, boho gypsy looks, Pop Art prints and belted suits.
Freight
Negotiations suspended. Negotiations between the International Longshore and Warehouse Union and the Pacific Maritime Association to avert a strike at the West Coast's 29 ports stall as the union workers and shipping companies are unable to reach concessions on key points of the workers' new contract after the old one expires July 1.
Retail
Sales surge. Consumers boosted retail sales on everything from air conditioners to apparel in June, as discounters Wal-Mart, Target and Kohl's report double-digit sales increases. Department stores report slight losses, in line with company estimates.
Marts
MCMC heads to Shanghai. The Market Center Management Company, which manages the California Market Center and the Dallas Market Center, sign a 10-year deal to manage the ShanghaiMart, the largest wholesale trade mart in Asia.
Trade shows
Strong orders. Brisk orders and healthy traffic mark the International Gift and Home Accessories Market at the California Market Center, L.A. Mart and Los Angeles Convention Center.Tech shows planned. The American Apparel and Footwear Association announces a partnership with the Material World textile and sourcing show to host a technology trade show in conjunction with Material World at the Miami Beach Convention Center in April 2004. Bobbin World, which had canceled its annual show this year, announces plans to host Bobbin World Expo at the Miami Beach Convention Center in spring 2004. The Sewn Products Expo & Suppliers of America also join the fray, announcing plans to host a trade show at the Miami Beach Convention Center in May 2004.
Legislation
Secession effects. The apparel industry considers the effects of a pair of secession proposals that would split the San Fernando Valley and Hollywood off from Los Angeles into separate cities.
Employment Employment up. California apparel employment is reported to have risen slightly in June as the unemployment rate held steady and domestic apparel prices fell.
Manufacturing
FBI center opens. The Fashion Business Incubator hosts a fashion show and fund-raiser to celebrate the opening of its Resource & Training Center in the New Mart, at the same time announcing its new name: Fashion Business, Incorporated.Swim busy. California swim makers scramble to refill orders as more-optimistic retailers begin restocking shelves.Jones taps L.E.I. New York–based Jones Apparel Group announces plans to acquire Los Angeles junior denim label L.E.I. for $272.5 million in cash.Mossimo/Cherokee dispute. Santa Monica, Calif.–based Mossimo Inc. files for arbitration against Cherokee Inc. to renegotiate royalties subject to payment under an agreement that enabled Cherokee to broker a multi-million-dollar licensing agreement with Target Corp.Guess' plea. Los Angeles–based Guess? Inc. asks for help from the U.S. Ambassador to Mexico to combat a series of highway robberies of the juniors manufacturer's shipments that have resulted in the loss of $4.4 million worth of merchandise.Custom collection. Vernon, Calif.–based menswear label BC Ethic launches a new collection as part of a partnership with custom- car creator George Barris.
AUGUST
Fashion
Holiday hits. Designers celebrate the Holiday market with festive dresses, velvet trousers and embellished blouses.The look of Las Vegas. The looks are sweet, sexy and skin-baring on the runway at WWDMAGIC in Las Vegas.
Freight
Customs security. The U.S. Customs Department institutes a system that requires importers to provide transportation documentation in an effort to ensure the security of the entire supply chain from point of origin to final designation.
Legislation
Pro-textile agreement. U.S. textile organizations applaud the passage of the Conference Agreement, a pro-textile measure that requires U.S. fabrics used under the Caribbean Basin Initiative and the Andean Preferential Trade programs to be dyed, finished and printed in the United States—closing a loophole in the Trade and Development Act of 2000 and the Andean Trade Preference Act.
Retail
Galleria for sale. The owners of the Glendale Gallery announce plans to put the 26- year-old center up for sale. The mall features 1.4 million square feet of retail space and 140,000 square feet of office space.Slow BTS sales. The beginning of the Backto- School shopping season got off to a slow start in July as retailers including May Department Stores and Gap Inc. report weak sales. Discounters Wal-Mart Stores, Target and Kohl's, however, report slight increases.
Trade shows
Appointment market. Appointments drive business for Holiday and Resort merchandise at Los Angeles Market Week.Appointments key at WCC. Reps report that appointments are the key to results at this edition of upscale menswear show West Coast Collective in Los Angeles. The trade show announces it is changing its name to West Coast Exclusive.Many shows in L.V. Buyers have a lot to choose from in Las Vegas as several satellite shows vie with MAGIC International. Among the alternative shows: West Coast Exclusive, Pool, Womenswear in Nevada, Off-Price Specialist Show, ASAP Global Sourcing Show and the International Discount Apparel Show.
Marts
New exec at CMC. The California Market Center announces the appointment of former MAGIC staffer Cecil Strickland as executive director of retail relations and buyer services.
Real Estate
New showroom building. Renovations are completed on portions of the Maple Tower Fashion Center, a 1930s-era showroom building in the Fashion District.
SEPTEMBER
Fashion
Spring cleaning. Designers offer up a cleaner version of bohemian looks for Spring at the Action Sports Retailer Trade Expo in San Diego.Road show. Los Angeles labels Shawn, Anja Flint and Sta are featured in a fashion exposition at the PT Studios launch party, a traveling fashion, film, art and music tour hosted by Gen Art and Chrysler's PT Cruiser.L.A. in N.Y. Los Angeles designers including Jeremy Scott, Jared Gold, Rami Kashou, BCBG Max Azria, Tyler, Lloyd Klein, Guess and Levi Strauss & Co. are among the runway shows held during New York Fashion Week.
Retail
New exec at the Gap. Gap Inc. hires former Walt Disney executive Paul Pressler as chief executive officer, replacing Millard "Mickey" Drexler, who announced in May plans to retire once a successor was found.
Trade shows
New swim show. The International Swimwear/Activewear Market announces plans to host a swim show in Las Vegas during MAGIC International in August 2003.Girls rule. Surf looks and juniors merchandise are the strong sellers at the Action Sports Retailer Trade Expo in San Diego.D&A splits show. New York–based Designers & Agents announces plans to expand the show into two venues—the New Mart and the Cooper Building—during Los Angeles Fashion Week in November.
Marts
Gerry opens. The Gerry Building, a 1930sera building in the Fashion District, opens its doors with a tour of several completed showrooms.
Manufacturing
Gotcha files. Irvine, Calif.–based Gotcha International files for Chapter 11 bankruptcy protection and dissolves its partnership with domestic licensee Ederal Sportswear Inc.Tarrant buys mill. Los Angeles–based private label manufacturer Tarrant Apparel Group acquires a fully vertical twill factory in Mexico. Tarrant purchases the facility, which it helped build, from Trans Textil International for $4 million in cash, 3 million shares of Tarrant stock and 25 percent equity stake in Tarrant's subsidiary, Tarrant Mexico S. de R.I. de C.V.
OCTOBER
Fashion
Spring training. Athletic looks are key at the Directives West Spring '03 fashion show held during the Los Angeles Junior & Contemporary Market at the California Market Center.Luxury cruise. The looks are luxe at the International Swimwear/Activewear Market runway show in Santa Monica, Calif.
Freight
Lockout at ports. The Pacific Maritime Association (PMA), a group representing shippers, lock out West Coast port workers when talks between PMA and the International Longshore and Warehouse Union break down.Ports reopened. President Bush steps in to open West Coast ports by invoking the Taft-Hartley Act, which imposes a "cooling off" period between negotiators.
Retail
New look. Robinsons-May unveils its new prototype store at the Irvine Spectrum Center with a new focus on fashion and a new layout, including wider aisles and stainless-steel checkout counters located near the exits.Sluggish sales. September retail sales were still sluggish as the economy continued to falter. Even strong performer Kohl's reports losses. Again, discounters, including Wal-Mart, fared best.Bebe brand dispute. Brisbane, Calif.–based retailer Bebe wins a ruling against May Department Stores over the department store's use of the "Be" brand for its private label. A judge rules the trademark is "confusingly similar" to Bebe's brand.
Trade shows
More at Urban Suburban. Buyers are focused amid the expanded offerings at the Urban Suburban trade show at the California Market Center.Busy gift show. Organizers report increased attendance and strong spending at the gift markets at the California Market Center and the L.A. Mart.New home for ISAM. Buyers make the trek west to shop the International Swimwear/Activewear Market at its new location in Santa Monica, Calif.Sold-out space. Temporary space sells out and orders are strong at the Junior & Contemporary Market at the California Market Center, according to management executives.New girls' show. A new trade show, Action Girl, dedicated to women's action sports apparel and accessories, announces it is set to launch in Long Beach, Calif., in July 2003.L.A. at Femme. New York–based trade show Femme announces plans to feature California labels in a separate "L.A. Designers Pavilion" at the January run of the show.Strong turnout. The Los Angeles International Textile Show sees a strong turnout from designers, labels and retailers, including Laundry by Shelli Segal, Juicy Couture, Private by Freddi Rojas, Cornell Collins, Alicia Lawhon and City Girl by Nancy Bolen.
Lawsuits
Wins workers win. The California Labor Commissioner settles the suit filed by 240 Wins of California garment workers, who will be reimbursed approximately $865,132 in back wages owed the workers for three unpaid months in 2001.Uniform suit. A San Francisco Polo Ralph Lauren sales associate files suit against the New York–based fashion house over Polo's uniform policy, which requires retail employees to buy and wear the company's clothing. The company offers employees a 65 percent discount, but the employee claims she spent more than $35,000 on Polo clothing and accessories since joining the company in 1997.
Technology
New exec at Gerber. Tolland, Conn.–based Gerber Technology names Alan Seymour deputy regional director of the North American Team, based in Los Angeles, to replace Warren Hartenstine, who left the company to join Walter Wilhelm Associates LLC.Tukatech expands. Los Angeles–based CAD/CAM supplier Tukatech completes expansion of its headquarters, adding a 10,000- square-foot building to house the company's corporate office, TukaWeb operations and a Tukacenter training facility.
Events Clareman honored. Richard Clareman, president of Los Angeles–based juniors label Self Esteem, is honored as Man of the Year at the Fashion Industries Guild of Cedars- Sinai Medical Center's annual gala.
NOVEMBER
Fashion
Global warming. International-inspired details paired with current trends, including military styles, are key for Fall at Los Angeles Fashion Week.IMG in L.A. New York–based IMG, producers of the 7th on Sixth fashion shows in New York, announces plans to host a similar event in Los Angeles next spring called Mercedes-Benz Shows L.A. The four-day event is scheduled to begin April 1 at the Downtown Standard Hotel and will feature four or five shows each day.Spring '03 Fashion Week. There were more than 35 fashion events held around town during Los Angeles Fashion Week, including solo shows by Jeremy Scott, David Cardona, Nikolaki and Alicia Lawhon; group shows by Gen Art, the Coalition of Los Angeles Designers and Fashion Business, Inc.; and fashion events by Richard Tyler and Jared Gold.
Retail
Independents sought. Southern California shopping districts Third Street Promenade in Santa Monica and Colorado Boulevard in Old Pasadena are courting independent retailers to diversify the mix of stores, which includes national chains Crate & Barrel, Banana Republic and J. Crew.New in Long Beach. Long Beach, Calif., unveils two new retail projects by Developers Diversified Realty: the 450,000-square-foot CityPlace, which opens midmonth, and the Pike at Rainbow Harbor, a $130 million development near the Long Beach Convention Center set to open in fall 2003.Slight increases. October sales rose slightly for large retailers such as Wal-Mart, Federated Department Stores and JCPenney and chains such as Old Navy and Pacific Sunwear. Not all retailers fared well, however. Saks Inc. and Neiman Marcus Group report slight decreases, as does teen chain Wet Seal.Discounters in California. Wisconsin-based Kohl's announces plans to open 28 stores in Southern California by March 2003. And Ohio-based discounter Big Lots Inc. announces plans to open 113 stores in the area over the next five years.
Freight
Technology agreement. Negotiators at the West Coast ports reach an agreement on the use of technology but decide to break for a one-week recess before tackling other issues such as salaries and pensions for union workers.
Trade shows
Busy fashion week. Many trade shows, many venues and many runway shows gave buyers a reason to come to Los Angeles Fashion Week. The California Market Center reports double-digit percentage increases in attendance.
Manufacturing
Guez venture. Los Angeles–based private label companies Tarrant Apparel Group and Azteca Productions International, both run by members of the Guez family, announce plans to expand an existing joint venture between the two businesses called United Apparel Venture LLC (UAV) to reduce the production costs of shared customers Tommy Hilfiger and Express. UAV is owned 50.1 percent by Tag Mex, Tarrant's Mexico subsidiary, and 49.9 percent by Azteca.Guess cutbacks. Los Angeles–based Guess? Inc. announces plans to lay off some workers and close some stores as a result of the current weak economic environment. The company, which saw third-quarter sales decline 8.5 percent to $157.8 million, does not say how many stores would close or how many jobs would be eliminated.
Legislation
AB633 enforced. Contractors and manufacturers begin scurrying to comply with the newly revised Assembly Bill 633, which extends liability for labor-law violations along the supply chain. The Department of Labor began quietly enforcing the law, which was passed in 1999, in October 2002.Workers' comp increases. California manufacturers begin facing workers' compensation rate increases of up to 50 percent over the next three years with the passage of Assembly Bill 749, which goes into effect in January 2003.
Lawsuits
Cherokee, Mossimo settlement. Cherokee Inc. is issued an interim award following arbitration to settle a dispute between the Van Nuys, Calif.–based apparel manufacturer and Santa Monica, Calif.–based Mossimo Inc. over renegotiated royalties owed to Cherokee for brokering a licensing agreement with Target Corp. Mossimo announces it is planning to challenge the decision.
DECEMBER
Fashion
Port agreement reached. The Pacific Maritime Association, which represents shipping companies, and the International Longshore and Warehouse Union (ILWU) reach a tentative agreement on the ILWU's new contract; it will replace the prior contract, which expired in July. The new agreement includes concessions for such technological improvements as bar-coding, which would allow for automatic tracking and receiving at the West Coast's 29 ports.
Retail
Lackluster sales. November retail sales were lackluster for most retailers, including Saks Inc., Federated Department Stores and Bebe. There were a few bright spots—Wal-Mart saw a small increase and specialty retailer Pacific Sunwear saw an 11.7 percent rise in same-store sales.
Online sales strong. Sales started out strong at retail stores over the Thanksgiving weekend but fell short of retailers' hopes for the holiday sales season, which runs one week shorter than usual because of the late Thanksgiving date.
However, online sales, which had already been strong for the week ending Nov. 29, jumped 37 percent on the Monday following Thanksgiving, according to ComScore Networks.
Marts
Long Fall market. The California Market Center announces plans to extend the Fall 2003 market dates to coincide with the planned Mercedes-Benz Shows L.A. fashion shows. Los Angeles Fashion Week will run April 2–8 to accommodate buyers who want to catch the Mercedes- Benz shows.
Showrooms
Caravan show. Several Los Angeles sales representatives create a caravan concept to take their apparel lines on a group sales trip between markets. The first trip, to Scottsdale, Ariz., includes 17 reps from the California Market Center and the New Mart. Organizers judge the show a success and are considering the next destination for the caravan.
Fashion district
More Fashion District. The Los Angeles Fashion District announces it will include a swath of land along Crocker Street, between 9th and 12th streets, east of San Pedro Street. The area will be annexed to the Fashion District in January 2004.
Lawsuits
Sorrento suit. Former employees of Sorrento Coats, a nowshuttered outerwear manufacturer in San Bernardino, Calif., ask the Court of Appeals to overturn a summary judgment in favor of the Union of Needletrades, Industrial and Textile Employees (UNITE). The dispute stems from the workers' attempts in 1998 to decertify their union representation. The workers say UNITE is responsible for forcing Sorrento out of business. An attorney for UNITE says the union is confident the original judgment will be upheld.Seven suit. Los Angeles–based Seven Licensing Company files a countersuit against L'Koral Inc., manufacturer of the Seven for All Mankind denim label, citing the company deliberately infringed on the company's Seven7 trademark. Seven Licensing Company is owned by Gerard Guez, who is also chairman of Los Angeles–based Tarrant Apparel Group.
Manufacturing
Bisou's JCPenney deal. Los Angeles–based contemporary manufacturer and retailer Bisou Bisou strikes an exclusive licensing deal with JCPenney to create a line of Bisou Bisou apparel for the moderate department store. The collection will bow in February, and Bisou Bisou will phase out its business with existing accounts Bloomingdale's, Macy's and Nordstrom over the next several months. Bisou Bisou, which filed for Chapter 11 bankruptcy protection for its retail business earlier in the year, says it will close its remaining retail stores in Los Angeles, New York and Florida.
Legislation
Gauging AB633 effects. Industry watchers are hopeful that the clarified rules regarding Assembly Bill 633, which extends liability for labor-law violations along the supply chain, will help reinvigorate retailers' interest in sourcing private- label merchandise in California.
Trade shows
New MAGIC show. MAGIC International announces that a new alternative concept show will be added to the run this February. Enclave will showcase hard-to-find fashion in a show that will also highlight the connections between fashion, music, art and entertainment.
In memory:
Marvin Kroner, owner of Acme Thread and Supply, March Vernita Bewley, retail buyer, May Bill Peters, owner of the Foot of the Mart, May Sydney "Duke" Becker, California Mart co-founder, June Richard Sisselman, textile executive for SAS Textiles, August Stanley "Lee" Loeb, co-founder of Frank-Lee of California, June Therese Allen, MAGIC International executive, August Ira Yellin, real estate developer, September Paul Johnson, Superba vice president and production director, September Angela Petesch, jewelry designer, October