Men Scoop Up One-of-a-Kind Tees at Traffic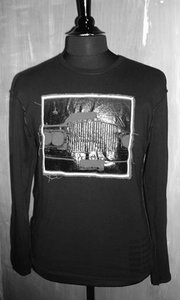 Deconstructed looks that hit their stride with Angeleno women in the past few years have crossed over to the male, fashion-forward population shopping at the men's Traffic store at the Beverly Center mall.
Shoppers are picking up one-of-a-kind T-shirts, long-sleeved shirts and sweatshirts by Los Angeles– based Dirty Mack; part street, part punk, the line features vintage sweatshirt fabrics in neutral shades remade with onecolor screenprints including those of Bentleys, palm trees and Kama Sutra–inspired poses, plus exposed seams, back patches and top-stitching. The tailored fit appeals to customers looking to flaunt their bodies and not hide under baggy sweatsuits.
"They're my No. 1 seller," said co-owner Sara Dovan of the Dirty Mack tops. "Lots of people from the music industry have come in for the look. I just sold at least half a dozen pieces to [the rock band] Fuel."
Dirty Mack's designer Stevie C, said each handmade garment requires about three hours' worth of his labor, one reason for the line's high price. Tshirts run from $150 to $170, and the sweatshirts about $300. He said he eventually hopes to expand the line with bottoms.
Dovan and her husband, Michael, first began their retail business 25 years ago, when they opened No Problem, a low-priced, dance-influenced clothing store on Cahuenga Boulevard in Hollywood. They later opened Traffic next door, and the store's avantegarde, high-end clothing took off. They eventually closed both Hollywood locations and opened Traffic stores for men and women at the Beverly Center beginning in the mid-1980s. Stores followed at Sunset Plaza in West Hollywood 13 years ago and at South Coast Plaza last year.
Dovan said her mix of showy clothing that resonates with the entertainment industry has kept business strong.
"I don't buy 100 sweaters. People come to me for specialty––especially people from music and television––and that's my focus," she said. —Nola Sarkisian-Miller