L.A. Fashion Week Spring '03: David Cardona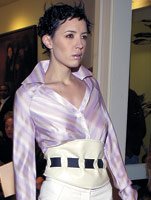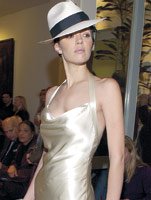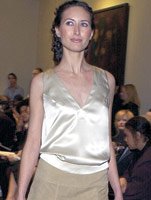 Designer David Cardona was surprisingly calm as he mingled with guests prior to the start of his Nov. 2 fashion show, held at a private home in the Hancock Park section of Los Angeles. Organizers delayed the show for two hours waiting for editors and 7th on Sixth executives to arrive from the Jeremy Scott show. But the guests who were already at the Cardona show didn't seem to mind, as they sipped wine and rubbed elbows with celebrities Janet Jackson, Kelly Lynch, Ming Na and celebrity stylists Philip Bloch and Jessica Paster (who each held court on opposite ends of the runway).
The show that did finally get under way had the same cool, detached attitude of the designer. The palette ranged from soft neutrals and pastels to stark black and white. The fabrics were beautiful but subtle: silk charmeuse, jersey and twill paired with lightweight leather, suede, wool and canvas. The construction— as always—was flawless. Cardona, a former engineer, showed beautifully constructed jackets and pants— some with thoughtful details such as pintucking on a bodice or a row of buttons at the ankle.
But amid the diaphanous flared skirts and tailored trousers were a few pieces that echoed the designer's dark Spring 2002 collection—the last full runway presentation for the line—although softened for this season. A one-strap halter dress with an asymmetrical hem was rendered in black leather. A black leather jacket was softened with a full-length skirt in black silk. And a biker jacket was recast in neutral canvas and paired with a pink and beige striped flared skirt. —Alison A. Nieder