2003 Retrospective Apparel Employment Roundup: Job Losses Continue in 2003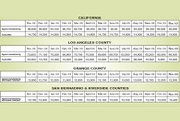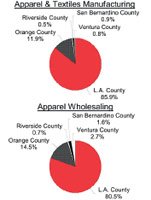 This year, the apparel industry had little to offer in the way of jobs, but clothing manufacturers said they were able to hold on to their employees by coming up with "realistic" projections, while scaling back their operations.
Analysts with the UCLA Anderson Forecast, an economic think tank at the University of California, Los Angeles' Anderson School of Business, said ongoing sluggishness in manufacturing and continued caution by employers would prevent significant employment growth until 2005.
Statewide, apparel employment (including cut & sew manufacturing, apparel knitting and accessories manufacturing) declined this year by 7.2 percent, to 95,900 in November, the latest figures published by the California Employment Development Department.
Employment in the textile sector statewide fluctuated all year long, with the latest figures showing 14,600 workers employed in November, down from 14,700 in November 2002.
Los Angeles County, the largest apparel and textile employer, shed about 7,600 apparel jobs during the year, falling to 66,000 employees in November 2003. The county's textile industry lost about 2,000 jobs, falling to 10,000 as of November 2003. (Los Angeles is the only county for which the EDD provides separate apparel and textile employment figures.)
In Orange County, home to many surf and skate apparel makers, apparel and textile employment was down 2.4 percent, to 12,500 jobs in November 2003. The decrease is a reversal of recent trends for the area, which, for many years, appeared to be insulated from the industry's job losses seen in other counties in the state.
Some of those jobs are migrating east as Riverside and San Bernardino Counties both reported slight gains in employment in November. Apparel employment in the two counties increased by 300 jobs, to 13,400 in November 2003 from 13,100 at the same time last year.
New system
Starting in 1998, the EDD slowly transferred Labor Market Information from the old Standard Industrial Classification (SIC) into the North American Industry Classification System (NAICS).
The EDD is no longer collecting employment data separately for the Bay Area (including San Francisco, San Mateo and Marin counties) under the new classification system due to flagging employment in recent years, according to EDD spokesman Kevin Callori.
(Under the EDD's old classification, Bay Area apparel and textile employment dropped by about 45 percent, from 13,800 jobs over the past five years.) Bay Area apparel and textile employment data is now combined with other unrelated industries.
But San Francisco Fashion Industries Executive Director Randy Harris said the city's apparel industry has stabilized this year. "Based on the size of our local industry today, compared to four years ago, we're at about 7,500, which is close to last year's figure," Harris said.
—Alison A. Nieder and Claudia Figueroa